DePauw Among Colleges in New 'Global Liberal Arts Alliance'
April 6, 2009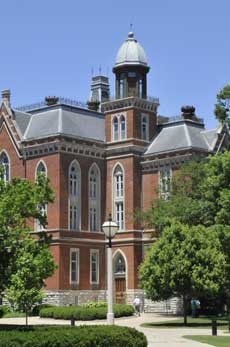 April 6, 2009, Greencastle, Ind. — DePauw University is a member of the new Global Liberal Arts Alliance, which, according to Inside Higher Ed, meshes "a regional consortium of liberal arts institutions with a new transnational one. Members of the alliance, to be administered by the Great Lakes Colleges Association [GLCA], met in Washington to formalize what participants characterized as a mechanism for multi-way exchange and knowledge-sharing. While the liberal arts college is often thought of as a peculiarly American model, it's a model that's proliferating in countries worldwide, often in the shadow of the large public university systems that predominate," writes Elizabeth Redden.
The story notes, "Institutions represented in the alliance include the Great Lakes consortium members, located in Indiana, Michigan, Ohio and Pennsylvania and including the
College of Wooster; Albion, Allegheny, Earlham, Hope, Kalamazoo, Kenyon, Oberlin and Wabash Colleges; and Denison, DePauw, and Ohio Wesleyan Universities. International institutions represented in the alliance include Al Akhawayn; Bratislava International School of Liberal Arts (BISLA), in Slovakia; Effat University, in Saudi Arabia; Forman Christian College, in Pakistan; Franklin College, in Switzerland; John Cabot University, in Italy; the American Universities in Bulgaria and Cairo; American College of Greece; and the American Universities of Nigeria and Paris."
Read more by clicking here.
Back