DePauw's Innovative Use of Technology Featured in Intel/HP Promotion
August 5, 2009
August 5, 2009, Greencastle, Ind. — "DePauw University's Approach to Enhancing Japanese Studies" is highlighted in an Intel/HP advertising insert, which is included in this week's edition of the Chronicle of Higher Education. Once unfolded, the piece reads, "Practice makes perfect. Just ask the students in DePauw University's Japanese class, where learning how to write complicated symbols and characters requires hours of practice and relies heavily on instructor feedback."
The text adds, "Equipped with HP Tablet PCs and DyKnow software, students can master their characters while reviewing stroke-by-stroke examples from class and receiving immediate feedback."
The ad invites readers to "view a video at www.hp.com/go/24informed to see how DePauw University successfully uses HP Tablet PCs powered by Intel technology in a variety of disciplines including chemistry, computer science, economics, and foreign language" (note: registration is required to access the clip; you may also see the video without leaving this site by clicking here).
The approximately nine-minute segment features Dave Berque, professor of computer science; Carol Smith, chief information officer; Bridget Gourley, professor of chemistry and biochemistry; Hiroko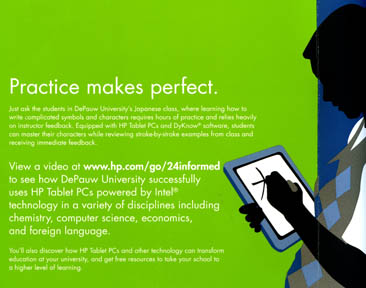 Chiba, associate professor of modern languages and chair of Asian studies; as well as Tyler Frounfelter '09 and Ashlee Anton '11.
The piece was produced by DePauw students Curlee Morrissette '10 and Erin Faulk '08, with assistance from Doug Fellegy '05, digital video instructor, under an HP Technology for Teaching grant.
Dave Berque's work at DePauw led to the development of pen-based technology that is featured in the video. The professor received the 2007 Mira Techpoint Award for "Education Contribution in Technology - Individual" for his efforts to create the software. Dr. Berque was profiled on Indianapolis' WISH-TV in October 2006 and was recognized in 1997 as the Carnegie Foundation for the Advancement of Teaching Outstanding Baccalaureate Colleges United States Professor of the Year.
Back