NY Times Spotlights Prof. Matt Hertenstein's Research on Ability of Touch to Communicate
August 10, 2009
August 10, 2009, Greencastle, Ind. — "Researchers have found experimental evidence that a touch can be worth a thousand words, that fleeting physical contact can express specific emotions -- silently, subtly and unmistakably," begins a New York Times story. Nicholas Bakalar writes, "Scientists led by Matthew J. Hertenstein, an associate professor of psychology at DePauw University, recruited 248 students, each to touch or be touched by a partner previously unknown to them to try to communicate a specific emotion: anger, fear, happiness, sadness, disgust, love, gratitude or sympathy."
The result of their work? "Accurate understanding ranged from 50 percent to 78 percent, much higher than the 11 percent expected by chance and comparable to rates seen in studies of verbal and facial emotion."
Dr. Hertenstein tells the Times, "These findings have strong implications for the power of touch. Most touches were only
about five seconds, but in these fleeting moments, we're capable of communicating distinct emotions, just as we are with the face. This is a sophisticated differential signaling system that we haven't previously known about."
Tiffany Field, director of the Touch Research Institute at the University of Miami, tells the newspaper, "This information is very interesting, and does add to the science of emotion and communication."
Hertenstein's research is published in the August issue of the journal Emotion.
Read the story -- "Five-Second Touch Can Convey Specific Emotion, Study Finds" -- at the Times' Web site.
This spring, research led by Dr. Hertenstein --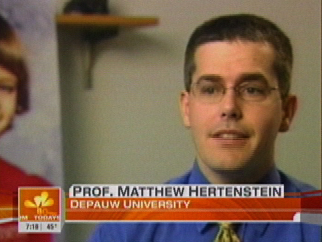 which analyzed the childhood photos of subjects and whether they divorced later in life -- received worldwide attention in media outlets including the London Daily Mail, CNN, the UK's Economist, the New Straits Times of Kuala Lumpur, Malaysia and NBC's Today.
Research conducted by Matt Hertenstein and his students at DePauw has previously been featured in American Baby and Prevention magazines, on the Canadian Broadcasting Corporation's program, The Nature of Things, in Sunrise magazine and the Toronto Sun, and on National Public Radio.
Visit Professor Hertenstein's Emotion Lab online by clicking here.
Source: New York Times
Back