Pre-Order and Save on 2009 Monon Bell Classic DVD
September 22, 2009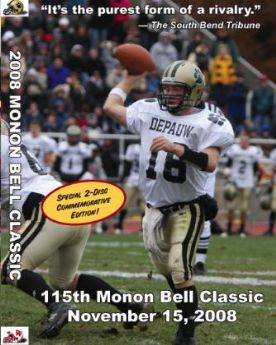 September 22, 2009, Greencastle, Ind. — For the tenth time in its storied history, the football rivalry between DePauw University and Wabash College will be commemorated with a DVD. Pre-orders are now being accepted for the 2009 Monon Bell Classic DVD, which will be produced and professionally replicated immediately after the November 14 game. Only 300 discs will be made; each college will have 150 to distribute. (at left: cover of 2008 Monon Bell Classic DVD;

[Download Video: "2008 Monon Memory" - 4105kb])
The limited edition set is available until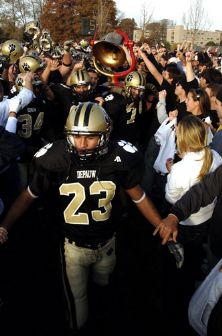 November 13 for an early-bird special price of $12; after that date, the price will be $15. A $3 shipping and handling charge will be added to each order, regardless of size, as well as 7% sales tax to orders shipped within Indiana.

[Download Video: "2007 Monon Memory" - 7808kb]
Advance orders for the disc can be placed via this link. Also available are the DVDs of the 2001-08 Monon Bell Classics (supplies of the 2001, 2002 and 2007 discs are extremely limited; the 2008 game is a two-disc set including all 115 "Monon Memories"). A disc of the first-ever telecast in the rivalry -- of the 1977 game -- was recently completed. Information on obtaining a copy can be received by sending an e-mail here.

[Download Video: "1890 Monon Memory" - 4409kb]
"The DVD has been an important keepsake for players, parents and fans, but it's always been a niche product," says Ken Owen '82, executive director of media relations at DePauw, who masters the disc. "Given the economic situation, we're producing only as many DVDs as we expect to sell. This will be the smallest production run yet for a Monon Bell DVD and, while I'm confident we'll be able to satisfy initial demand, the discs are very likely to sell out at some point."

[Download Video: "1955 Monon Memory" - 6739kb]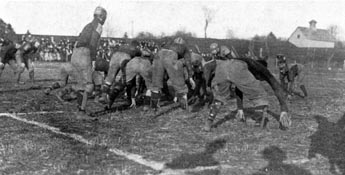 "It's once again exciting to collaborate with DePauw to produce a commemorative DVD of this year's Monon Bell clash," adds Jim Amidon of Wabash College. "Each year Ken has been able to load up the disc with an increasing array of new features — from historical photo galleries to vintage tape from the best games of our storied past. It's become an important keepsake for fans of the series and its amazing history." (at left: photograph from 1906 Monon Bell game;

[Download Video: "1906 Monon Memory" - 4700kb])
The DVD of the 116th edition of the rivalry will feature the HDNet telecast presented in widescreen enhanced for 16x9 televisions; photo galleries of this year's battle for the Bell and a collection of historic images dating back to the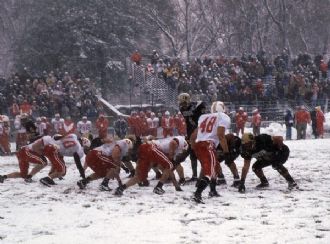 rivalry's early days; "Monon Memories" of memorable contests; and the recently-discovered original demo of the the popular Ballad of the Monon Bell, as well as the beloved final version of the song by Jim Ibbotson '69.

[Download Video: "Ballad of the Monon Bell - 2007 Version" - 10,419kb]

[Download Audio: "Ballad of the Monon Bell - Stereo" - 2514kb]
Voted Indiana's "best sports rivalry" by visitors to ESPN.com, the Monon Bell Classic is one of the nation's longest and greatest football rivalries. The November 14 game will be the 78th for possession of the Monon Bell, which was introduced as the winner's prize in 1932. After 115 battles between DePauw and Wabash the all-time series is knotted at 53-53-9. DePauw leads in games played since the Monon Bell was introduced by a 37-34-6 count. (at right: 1997 game;

[Download Video: "1997 Monon Memory" - 2985kb])

Again this year, DePauw and Wabash will work together to stage alumni telecast parties across the nation where graduates and friends of the colleges can gather to catch up with friends and cheer on their favorite team. Learn about plans for your city and/or sign up to host a gathering by clicking here.
Access DePauw's Monon Bell Web page here.
A complete roster of "Monon Memories" -- 115 video highlights of all the past games -- can be found here.
Back