Cheney Biographer Stephen Hayes '93 Cited in Washington Post Report
August 13, 2009
August 13, 2009, Greencastle, Ind. — "Former Vice President Dick Cheney believes his old boss, President George W. Bush, gradually turned away from his advice during their second term in the White House, showing a surprising independence as he started taking more flexible positions on a range of issues," notes a report today which quotes 1993 DePauw University graduate Stephen Hayes. The story, which first appeared in this morning's Washington Post, says Cheney has started work on a memoir, which will be published in 2011.
The piece notes that Hayes, who authored the 2007 authorized biography, Cheney: The Untold Story of America's Most Powerful and Controversial Vice President, reports that Cheney stated, "When the president made decisions that I didn't agree with, I still supported him and didn't go out and undercut him. Now we're talking about after we've left office. I have strong feelings about what happened ... And I don't have any reason not to forthrightly express those views."
An Associated Press story adds, "Robert Barnett, who negotiated Cheney's book contract, passed word to potential publishers that the memoir would be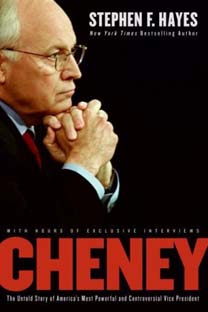 packed with news, said the article published on the Post Web site, and Cheney himself has said, without explanation, that 'the statute of limitations has expired' on many of his secrets. The book will cover Cheney's long career from chief of staff under President Gerald Ford to vice president under Bush."
Read more by clicking here.
Stephen F. Hayes is a columnist for the Weekly Standard and makes frequent appearances as an analyst on television news networks. Jonathan Karl called Hayes' biography of the former vice president "the most serious effort yet to understand the Cheney enigma" in a Wall Street Journal review.
A summary of an August 2007 interview with Stephen Hayes -- including video clips -- may be accessed in this previous article.
Back