Prof. Matt Hertenstein's "Promising" Research on Communicating through Touch is Spotlighted
August 16, 2009
August 16, 2009, Greencastle, Ind. — "Interesting things are going on in the field of touch communication research, some of the most interesting only 35 miles from here in Greencastle," reports today's Terre Haute Tribune-Star. "Matthew J. Hertenstein, an associate professor of experimental psychology at DePauw University, is discovering that our fairly neglected sensory system of touch can speak a powerful and articulate language. Even more promising, the language can cut across gender and cultural lines and be effectively used by people who are complete strangers."
Stephanie Salter notes that the work of Hertenstein and his students at DePauw's Touch and Emotion Lab, which the professor founded, was featured last week in the New York Times. "Broken into various two-person 'dyads' of one communicator (or encoder) and one receiver (or decoder), the subjects managed a high accuracy level in communicating eight distinct emotions through touch: Anger, fear, happiness, sadness, disgust, love, gratitude and sympathy. No matter the configuration of the dyad -- male-male, male-female, female-female, female-male -- the accuracy in communication was considerably higher than can be accounted for by chance.


Perhaps most exciting, the encoders and decoders didn't know one another. On average, pairs of silent strangers -- one person in each pair blindfolded to block visual cues from facial or body language -- managed a 50 to 78 percent accuracy rate in communicating specific emotions via touch."
Salter writes, "With his colleagues -- Rachel Holmes and Margaret McCullough at DePauw, and co-author Dacher Keltner at the University of California, Berkeley -- Hertenstein is working to raise the profile of touch nearer to that of two well-studied areas of communication, voice and facial expressions."

"The skin is the largest organ of the human body," Dr. Hertenstein tells the newspaper. "If you spread an adult's out, it would be the size of a twin-bed mattress." But, the professor says, scant research has been done on the ways we communicat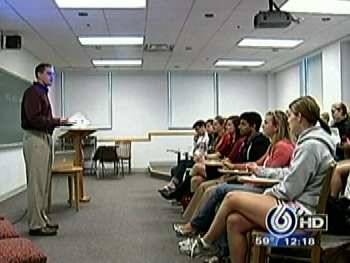 e through touch. One barrier has been America's touch-averse culture.
According to Hertenstein, "touch seems to be OK only in the clinical context, not out of it."
"Never a huggy-touchy people, unlike Latin cultures, we have increased the prohibition over the last few decades in our reaction to the well-publicized incidence of child sex abuse," Salter writes. "In trying to protect kids from predators, we've cut them off from the nurturing, healing, stabilizing powers of touch from teachers, relatives, one another and even parents. That sorely deprives children and adults."

According to Hertenstein, "Every morning I ask my 3-year-old if he wants a back rub, and he says yes. So for four or five minutes, I rub his back. We have science to back up the benefits of what that contact produces. We know touch reduces our levels of stress hormones like cortisol and raises the levels of helpful chemicals like oxytocin. It promotes a sense of security and well-being, which is especially important for kids. And it's reciprocal. I touch my son and he is inherently touching me."
The article concludes, "Hertenstein's work in the Touch and Emotion Lab at DePauw indicates we are capable of major
advancement. Those accuracy rates for communication through mere touch are encouraging. As he put it: 'It's like, we're doing something pretty well that we don't even practice. Imagine if we did.'"
The complete text can be found at the Tribune-Star's Web site.
This spring, research led by Dr. Hertenstein -- which analyzed the childhood photos of subjects and whether they divorced later in life -- received worldwide attention in media outlets including the London Daily Mail, CNN, the UK's Economist, the New Straits Times of Kuala Lumpur, Malaysia and NBC's Today.
Research conducted by Matt Hertenstein and his students at DePauw has previously been featured in American Baby and Prevention magazines, on the Canadian Broadcasting Corporation's program, The Nature of Things, in Sunrise magazine and the Toronto Sun, and on National Public Radio.
Visit Professor Hertenstein's Emotion Lab online by clicking here.
Source: Terre Haute Tribune-Star
Back