Dennis Trinkle '91 Appointed Provost of Harrison College
August 17, 2009
August 17, 2009, Greencastle, Ind. — Dennis A. Trinkle, a 1991 graduate of DePauw University, was today named the first provost and chief academic officer at Harrison College, formerly known as Indiana Business College. Dr. Trinkle comes to his new post from IHETS (the Indiana Higher Education Telecommunications System), where he was appointed executive director in early 2008.
Trinkle "has held numerous leadership and faculty positions at DePauw University, Valparaiso University, the University of Cincinnati and the University of Indianapolis," reports the Indianapolis Star. "He also has led information technology, marketing and venture capital enterprises in Indiana and Ohio."
"We're going to take something that's already great and make it even greater," says Trinkle of Harrison, which has 13 campuses -- 12 in Indiana and one in Ohio. "This is a college with a 93 percent placement rate for graduates, which is much higher than typical. By applying that kind of leadership to other areas, we can do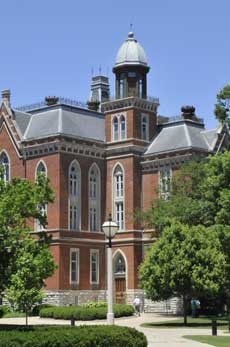 incredible things."
The author and/or editor of more than a dozen books, Trinkle is the former executive director of the American Association for History and Computing. He previously served as chief information officer at DePauw.
"Harrison College is committed to bringing in talent at the highest level," says Ken Konesco, Harrison's president and CEO. "Dennis Trinkle's vast expertise and impeccable reputation are going to be huge assets in helping us ensure student success."
Read more at IndyStar.com.
Dennis Trinkle appeared last weekend on television's Inside Indiana Business; video can be found here. He was recently selected to participate in Class XXXIV of the Stanley K. Lacy Executive Leadership Series (SKL). Read more in this story.
Back