NBC Golf Analyst Mark Rolfing '71 is Profiled
August 20, 2009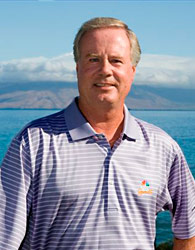 August 20, 2009, Greencastle, Ind. — "I wouldn't trade anything to be out there with Rocco and Tiger on that Monday morning," recalls NBC Sports golf analyst Mark Rolfing of covering the 2008 U.S. Open at Torrey Pines Golf Course. "It was electric, there were 27,000 people and two players. It was the highlight of my career."
Rolfing, a 1971 graduate of DePauw University, has been "a constant on NBC golf broadcasts for 20 years, according to a feature in the Daily Chronicle of DeKalb, Illinois. The article notes Rolfing's DePauw experience, adding, "His summers were spent as a lifeguard at the Hopkins Park Pool, where he worked until 1973. At a reunion of pool employees on Monday, Rolfing, who has rubbed shoulders with the world's top athletes, reminisced with old friends, paged through DeKalb High yearbooks and flipped through worn newspapers
yellowed by age."
Rolfing, a member of the DePauw Athletic Hall of Fame who played on Tiger golf teams which included Dan Quayle '69 and Randy Reifers '68, tells the newspaper of his early broadcasting days. "I didn't have a great playing resume, so I had to work harder at developing relationships with players. When I started in the late 80s the analysts were Ken Venturi, Jack Nicklaus and Arnold Palmer. You couldn't get a job without majors. I broke the mold. I had to go the extra mile."
Read the complete story -- "Rolfing right in the action as NBC analyst" -- at the Daily Chronicle's Web site.
Learn more about Mark Rolfing in this previous article.
Back