Government is No Cure for Media Industry's Woes, Argues Prof. Jeff McCall '76
August 16, 2009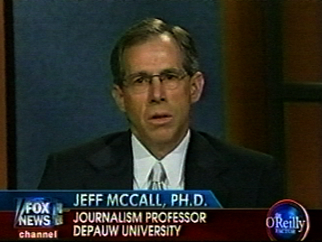 August 16, 2009, Greencastle, Ind. — "Former CBS News anchor Dan Rather has made his own news lately with his call for President Obama to form a commission to study the challenges facing the news industry," writes Jeffrey M. McCall, professor of communication at DePauw University, in the Indianapolis Star. Dr. McCall is featured in the newspaper's "First Thoughts" column.
"Rather is quite right that a healthy news flow is essential for democracy," asserts the professor. "He is also right that big media corporations have become more interested in the bottom line than serving the citizenry. He is wrong, however, to expect the government to play any role in addressing journalism's difficulties. The press can't effectively serve its historic role of being an independent government watchdog once presidential commissions start jawboning ways 'for improving and stabilizing' the media industry.'
According to McCall, who authored Viewer Discretion Advised: Taking Control of Mass Media Influences, "The industry should be
left to address its own economic and news judgment problems, and Obama should state that the government will play no formal role in guiding, counseling or bailing out the news media."
Access the item at College News.org.
A 1976 graduate of DePauw, Jeff McCall is a widely quoted expert on media matters and has been cited in articles published by approximately 100 newspapers. In a July 11 op-ed in the Star, McCall wrote, "However well-intentioned, any government bailout of the journalism industry is a bad idea," a comment that was published by the Washington Times three days later. He was cited in a July 8 New York Daily News article on the reality TV show NYC Prep and recently offered his thoughts on media coverage of South Carolina Governor Mark Sanford's problems.
Source: Indianapolis Star
Back