Projesh Banerjea '08 Receives Graduate Scholarship from Jack Kent Cooke Foundation
August 21, 2009
August 21, 2009, Greencastle, Ind. — Projesh Banerjea, a 2008 graduate of DePauw University, is the recipient of a 2009 Graduate Scholarship from the Jack Kent Cooke Foundation. Banerjea will use the award to pursue a graduate degree in economic history at the London School of Economics.
Each student's scholarship will cover tuition, room, board, fees, and books -- up to $50,000 a year -- for up to six years. Recipients of the highly competitive awards are chosen from a national pool, with approximately 1,000 nominees competing this year for 29 awards.
"Projesh was born in India, and at an early age moved with his family to Liberia where his father had been transferred," notes a biography on the foundation's Web site. "He was there just a short time when Civil War broke out. His family's home was looted and razed and he just barely escaped back to India where the family eventually resettled in Calcutta. An experience that had a powerful impact on Projesh was attending school for ten years across the street from Mother

Teresa's Missionaries of Charity. He organized food drives for the mission through his high school and learned then that there was truly something noble about helping a fellow human being 'and that I wanted service always to be a part of my life.' While a high school student in Calcutta he immersed himself in various extracurricular activities, taking up music, debate, theater, and sports, eventually going on to win the Shaw Education Foundation award for the Best All-Around Student in the city. Projesh came to America to study at DePauw University in Indiana where he quickly distinguished himself both as a brilliant student and a kind-hearted friend to all who knew him."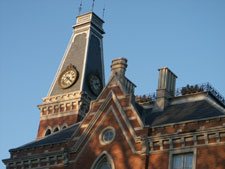 In his application for the Cooke Foundation Scholarship, Banerjea wrote, "A degree in economic history from the leading college for the subject in England, the nation India's systems are modeled after, will provide me with a historical understanding of economic theory, specialized training on South Asian economies, and a more global viewpoint. Additionally, an understanding of the past will be vitally important for my long term goals of helping with India's development and economic policy as I will learn about the policies adopted by other developing nations, the circumstances they were shaped and implemented in, and the impact they had."
Banerjea points to Raymonda Burgman, associate professor of economics and management and special adviser to the president for strategic initiatives, who"had a way of bridging the gap between academia and the real world and made me see economics not just as a subject to be studied but as a way of life."
In the University's letter of endorsement, Marnie McInnes, dean of
academic life and professor of English and women's studies called Banerjea "a brilliant and visionary student of economics; he is also sweet-tempered, personable and deeply ethical citizen of the world. In my almost thirty years of undergraduate teaching and twelve years as an academic dean at DePauw University, I have known many bright and talented students. Projesh stands at the very top of that list." She added, "We believe that he will put his liberal arts and specialized graduate education to noble use when he enters the workforce. Projesh will always be, at heart, a visionary and an activist."
The Jack Kent Cooke Foundation is a private, independent foundation established by Jack Kent Cooke to help exceptionally promising students reach their full potential through education.
Read more by clicking here.
Learn more about Projesh Banerjea in this previous story.
Seven members of the DePauw community received awards through the Fulbright application process for the coming academic year. Anne M. Schaufele, a 2007 graduate of the University, will conduct research in

El Salvador. Four May 2009 graduates of the University also received Fulbright grants: Jessica V. Strong, will conduct research in Germany on "The Effects of Music on Individuals with Dementia and Depression." Ross A. Robinson will spend the next academic year in Germany teaching English to young people. Lauren A. Wendling plans to travel to South Korea through an English Teaching Assistantship. Todd J. Schmid will spend a year conducting research in Paraguay as a result of receiving an international graduate study and research grant. Rebecca L. Upton, associate professor of sociology and anthropology and director of conflict studies at DePauw, will conduct research at the HIV/AIDS Centre at the University of Botswana in Gaborone, Botswana.
Back