Constitutionality of Broadcast Indecency Laws Still Unclear, Writes Prof. Jeff McCall '76
August 22, 2009
August 22, 2009, Greencastle, Ind. — "Citizens who favor strict enforcement of broadcast indecency laws were elated last spring when the Supreme Court narrowly upheld the Federal Communications Commission's authority to fine broadcasters who air 'fleeting expletives,'" writes Jeffrey M. McCall in today's Indianapolis Star. "The case dealt with live broadcasts of awards shows in which celebrities uttered off-the-cuff expletives," notes the professor of communication at DePauw University. "In a 5-4 ruling, the court upheld the FCC's enforcement power to sanction broadcasters for such language, even if the remarks were unplanned or 'fleeting.'"
Dr. McCall continues, "The ruling was hailed as a major victory by citizens who want the airwaves cleaned up. Such cheering, however, might be premature. This decision unfortunately failed to address the underlying First Amendment questions involved. The Second Circuit Court of Appeals had sided with broadcasters on procedural grounds, dodging a definitive ruling on the free speech aspect. The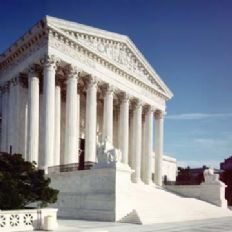 Supreme Court, as the court of final review, chose not to provide a constitutional perspective without a lower court opinion in place. The narrow scope of the Supreme Court's ruling guarantees more arguing about indecent broadcast content."
It remains to be seen how the new FCC Commissioner, Julius Genachowski, views indecency enforcement, McCall states. And the professor argues that "v-chip" technology, which is designed to let parents block offensive programs from children, "has been a bust because parents don't use it or don't know it even exists. Further, the v-chip catches only those programs that are accurately labeled for foul content, and live broadcasts are outside of that net."
The author of Viewer Discretion Advised: Taking Control of Mass Media Influences concludes, "Even if the FCC were to ask the Supreme Court for closure on the First Amendment issue, it is not clear the court would again rule against broadcasters. It is one thing to endorse the FCC's authority, but quite another to rule on constitutionality of a free speech matter. It's a complicated issue, to be sure ... If federal broadcast indecency laws would be ruled unconstitutional, Congress would be challenged to provide

new laws that pass constitutional muster. Or, the public may just have to live with a constant 'viewer discretion advised' mentality."
You'll find the complete essay at College News.org.
A 1976 graduate of DePauw, Jeff McCall is a widely quoted expert on media matters and has been cited in articles published by approximately 100 newspapers. He recently offered his thoughts on a potential government bailout of struggling media outlets. Read more in this story.
Source: Indianapolis Star
Back