Women's Tennis Team and Two Student-Athletes Recognized for Academics by ITA
August 24, 2009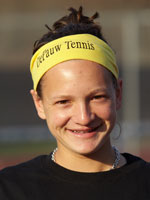 August 24, 2009, Greencastle, Ind. — DePauw's women's tennis team was one of 72 NCAA Division III programs recognized as an Intercollegiate Tennis Association All-Academic Team for the 2009 season.
The ITA All-Academic Team award is open to any ITA program that has a cumulative team grade point average of 3.20 or above (on a 4.00 scale). All eligible student-athletes whose names appear on the NCAA eligibility form and have competed in one or more varsity matches must average into the GPA for the current academic year (including fall 2008 and spring 2009).
Sophomore Kelly Gebert (pictured left) and May graduate Kristine Lewry (pictured right) were among the 434 Division III student-athletes selected as ITA Scholar Athletes. ITA Scholar-Athletes must be a varsity letterwinner, have a grade point average of at least 3.50 (on a 4.00 scale) for the academic year and have been enrolled at their present school for at least two semesters (including freshman thorough senior year).
The Tigers open the 2009-10 season on September 5-6 when it hosts the DePauw Invitational.
Back