Roles Reversed
August 26, 2009
Last May's graduating class set a DePauw record for the number of students accepted into Teach For America (TFA), a national corps of outstanding recent college graduates who commit two years to teaching in urban and rural public schools. Of the 20 DePauw graduates who ultimately committed to TFA, four—Ashey M. Chin, Kathryn E. Hyde, Matthew R. Jennings and Marjorie A. Ramirez-Lino—were assigned to schools in Houston, where classes began on Monday, Aug. 24. Before being flooded by questions from their new students, they took the time to share their experiences thus far with their friends back in Greencastle.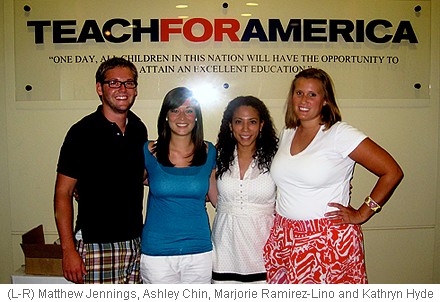 At the beginning of the summer, new TFA members report to regional training facilities—referred to as "Institute"—to train and prepare for their two-year terms with the program. Most TFA members, having graduated from college just weeks before, have little experience teaching. Institute, according to Chin, quickly prepares them for the difficulty of playing the role of teacher in the classroom. "Institute definitely taught me a lot about what it takes to become a successful teacher," Chin says. "We actually taught summer school, so getting hands-on experience in front of a class was really helpful."
"Institute was intense," says Jennings, the 2009 Walker Cup recipient. "If you would have asked me two months ago about what part of Teach For America I would feel most comfortable doing, I think the last thing on my list would have been the actual teaching in the classroom. Yet, teaching was what I looked forward to most each day and what got me through those early morning hours - watching my eight students walk into Room C108 ready to learn how to write a personal narrative essay."
Even after completing their Institute training, the Houston members recall thankfully their time at DePauw.
"Teach For America prepares you very well for the classroom experience, but honestly, my experiences at DePauw have prepared me the most," says Hyde, who is teaching first grade at James Berry Elementary School, an environmental science magnet school in Houston. "Many other corps members think Teach For America has very demanding standards. The standard that DePauw professors held their students to is as rigorous as, or even more rigorous, than those of Teach For America. I feel that DePauw has prepared me for meeting deadlines, interacting with administrators, students and parents, speaking in front of large groups of people, and instilling the basic interpersonal skills needed for teaching."
Hyde and the other Houston TFA members will find those skills necessary in such a diverse setting. While many of their teaching experiences will be similar, Houston is a large city—nearly 6 million reside in its metro region—and their teaching placements will provide each with different sets of challenges.
"One major challenge that both TFA corps members and our students face is students who struggle with the English language," says Chin, who is teaching algebra at Chavez High School. "A large percentage of my students this summer moved to Houston from Mexico, and they are native Spanish speakers. It's common to have students who can barely speak English and also have a lot of trouble reading and writing English. This language barrier is an obstacle that both TFA corps members and students in our schools must face and overcome everyday in order to get our students where they need to be academically at the end of the year."
Jennings, who is teaching English at Sam Houston Ninth Grade College Preparatory Academy, has found similar difficulties with the academic preparation of his students. "The most challenging part for me is getting my head around the fact that students who are said to be in one grade are actually performing at levels far below their actual grade level," he says. "The educational achievement gap is so difficult to close because in one academic year, we not only have to teach our students the content for that year, but also for the previous years as well. This results in students at so many different learning levels all in one classroom at the start of the school year."
But these challenges also hold rewards for students and teachers who overcome them. Perhaps unsurprisingly, the dedication shown by Chin, Hyde, Jennings and Ramirez-Lino during their summer school classes resulted in stories that will continue to motivate them through the coming years.
"During Institute, I was placed in a bilingual first-grade class," shares Hyde. "I have not had any Spanish classes since my senior year of high school. Almost all of my students spoke a fair amount of English, so we didn't have a problem communicating. However, I had one student named Jose who only spoke Spanish and had no English background. From the first day, we established a bond, but his lack of English and my lack of Spanish kept us from really communicating in an academic setting. Whenever possible, I would work with him one-on-one to really ensure that he was mastering the concepts we were teaching. During the last week of Institute, I was reading a story to a small group of students, and I asked, 'What kinds of fruits are red?' All of a sudden, I heard a little voice sitting next to me say apples. I turned to see who said it, and the only child sitting right next to me was Jose. This was the first time I heard him say anything in English! Not only did he understand what I had asked but also how to answer in English! I literally turned to him and let out an ecstatic scream! The smile was so big on his face."
Jennings' fondest memory could have easily turned out to be his worst.
"I had six or seven observers come and sit in on my lesson at different times," Jennings recalls. "Most of the time, the students don't bother to take notice of the strangers that walk in and out of the classroom, and they seemed to sufficiently ignore my mentor and some other corps members that were observing the class throughout the period. But neither they nor I could ignore the presence of three very business-like professionals who walked into my classroom one day wearing suits and shiny nametags. They were from the school district in which I work. I knew it, and the kids seemed to know it: this was the top of the observation chain. Rattled and trying to recover from my awkward pause in the lesson as I watched the observers take their seats, I just blurted out a question: 'So, when do we use a semicolon?' We were revising student-written essays, and I had defined proper semicolon use for more than 40 minutes in the 90-minute lesson, but I hadn't yet demonstrated or reviewed the technique. It really was an unfair question, and I didn't think there was any way the students would know the answer. Nelson, one of the more outspoken students in my class, however, stood up to perform his answer in front of his classmates and my bosses. 'You use a semicolon,'—dramatic pause— 'when you want to combine two independent clauses into one sentence. They are usually talking about the same thing, so you can do that.' I must have had the biggest smile on my face. I couldn't have been prouder. He was absolutely right. When the observers left, Nelson stopped the class. 'Hey teach, how much do you like us right now? I got that answer. Those were your bosses, weren't they? You were so red.' I probably was red. And I probably owe Nelson my job."
A total of 70 DePauw students—13.6 percent of the senior class—applied to Teach For America last year, a percentage that slightly exceeded Ivy League participation rates. Among small colleges (2,999 or fewer undergraduates), only Barnard (21) had more graduated seniors committed to TFA than DePauw. A complete list of DePauw's '09 TFA commitments can be found in this previous story.
Back