Want to Ask a Question of Rove & Dean? Enter the Campus Lottery
August 28, 2009
Also: Original Announcement of Dean-Rove Debate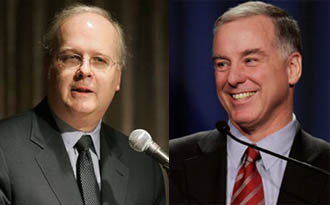 August 28, 2009, Greencastle, Ind. — Members of the DePauw University community are invited to submit their names for a lottery which will determine the individuals who will present issues and questions to Howard Dean and Karl Rove at their September 11 debate. Anyone who is a student, alumnus, or member of the faculty and staff at DePauw is eligible for the drawing, and at least one member of the Putnam County community will be selected.
Submissions will be accepted until Monday, September 7, at noon. To enter the drawing, please send an e-mail to 2009forum@depauw.edu stating the following:
Name
DePauw affiliation or address
E-mail address
Phone number
Those selected in the blind drawing will be notified mid-week and must present themselves, along with a current ID, by 7 p.m. or they will lose their turn.
Doors will open at 6 p.m. The program, presented by the Timothy and Sharon Ubben Lecture Series, will begin at 7:30 p.m. in Kresge Auditorium of the Green Center for the Performing Arts (605 S. College Avenue). Like all Ubben Lectures, the program is free and open to all. Seating is general admission and no tickets are required.
Karl Rove is the former chief political adviser to President George W. Bush. Howard Dean, former governor of Vermont, recently completed a four-year term as chairman of the Democratic National Committee.
Visitors are advised that the following will be prohibited:
Video/audio recording devices
Flash photography
Backpacks/bags
Signs
Bruce Stinebrickner, professor of
political science, will serve as moderator of the debate. The format will provide for an opening statement from both Mssrs. Rove and Dean (with the order determined by a coin toss backstage). Dr. Stinebrickner will present the first question/issue. Each gentleman will be afforded two minutes to respond, and may offer a one minute rebuttal if they choose.
Those whose names are drawn to present the questions/issues that follow Professor Stinebrickner's are advised that they are free to ask whatever they choose -- there will be no pre-screening of questions, but we do ask that all questions be succinct and to the point. The moderator has the discretion to cut off rambling queries, and should a questioner make a mini-speech instead of quickly getting to the point, they run the risk of losing their turn.
"This will mark the first time these two men have ever appeared together in a debate format on a college campus," notes Ken Owen '82, executive director of media relations at DePauw and coordinator of the Ubben Lecture Series. "The goals of this format are to engage the DePauw community while allowing us to learn as much from the two visitors as time
permits. Given the substantive issues facing our nation and world and the different perspectives Howard Dean and Karl Rove will bring to many of them, we ask that our questioners facilitate the process by keeping the discussions on the issues and to the point. It promises to be a very memorable event."
Established in 1986 through the generous support of 1958 DePauw graduates Timothy H. and Sharon Williams Ubben, the Ubben Lecture Series was designed to "bring the world to Greencastle" and presents events which are available for students, faculty, staff, alumni and the local community to enjoy. Previous guests have included Tony Blair, Benazir Bhutto, Shimon Peres, Margaret Thatcher, Doris Kearns Goodwin, Spike Lee, Peyton Manning, Todd Rundgren, Mitch Albom, General Colin Powell, Greg Mortenson, Elie Wiesel, William Cohen, Naomi Wolf, General Wesley Clark, David Plouffe, Harry Belafonte, E.O. Wilson, Jesse Jackson, Ambassador L. Paul Bremer, Mike Krzyzewski, Paul Rusesabagina, Liz Murray, Bob Woodward and Jane Pauley. (at right: Mikhail Gorbachev at DePauw; October 27, 2005)
To view a complete roster of Ubben Lecturers -- which includes links to video clips and news stories -- click here.
Back