Webcast to be Provided of Karl Rove-Howard Dean Debate
September 1, 2009
Also: Original Announcement of Dean-Rove Debate; Lottery Arranged for Debate Questioners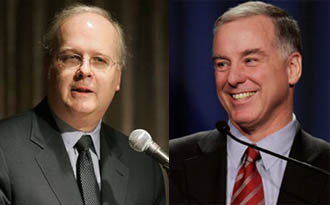 September 1, 2009, Greencastle, Ind. — The first-ever debate between Karl Rove and Howard Dean on a college campus -- set for September 11 at DePauw University -- will be viewable anywhere in the world via the Internet. Mssrs. Dean and Rove have agreed to let the University present a webcast of their Timothy and Sharon Ubben Lecture at DePauw. Video and audio of the program, which begins at 7:30 p.m., will be available via this link and will remain archived for two weeks following the event.
"It's become apparent that interest in this event may likely exceed the capacity of Kresge Auditorium (appoximately 1,400; doors open at 6 p.m.) so we've made provisions to ensure that if anyone can't get in the venue or even can't get to Greencastle, they can still enjoy the proceedings," says Ken Owen '82, executive director of media relations at DePauw and coordinator of the Ubben Lecture Series. "On behalf of our alumni and friends around the world, we thank Karl Rove and Howard Dean for allowing us to webcast their debate." (at right: the crowd for Ambassador Paul Bremer's Ubben Lecture; September 16, 2004)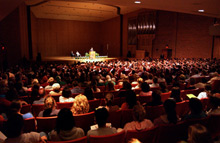 DePauw will again team with IHETS (Indiana Higher Education Telecommunications System) to present the webcast. The two organizations have collaborated in the past on Internet delivery of programs including DePauw commencement ceremonies and the 2005 Ubben Lecture by Mikhail Gorbachev.
Moore Theatre, which is adjacent to Kresge Auditorium in DePauw's Green Center for the Performing Arts, will have a closed-circuit video and audio feed of the debate and can accomodate any overflow resulting from Kresge being full.
Karl Rove is the former chief political adviser to President George W. Bush. Howard Dean, former governor of Vermont, recently completed a four-year term as chairman of the Democratic National Committee.
Learn more about the Dean-Rove debate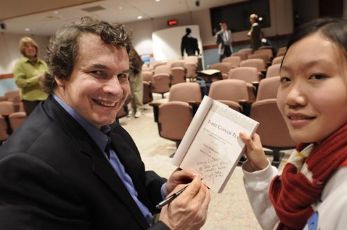 in this previous story.
Individuals who will present issues and questions to the two visitors will be selected from a lottery, details of which were recently announced.
Established in 1986 through the generous support of 1958 DePauw graduates Timothy H. and Sharon Williams Ubben, the Ubben Lecture Series was designed to "bring the world to Greencastle" and presents events which are available for students, faculty, staff, alumni and the local community to enjoy. To view a complete roster of Ubben Lecturers -- which includes links to video clips and news stories -- click here. (above left: November 2008 visitor Greg Mortenson, author of Three Cups of Tea)
Back