TV Station Spotlights Nation's Top-Ranked DIII Hoops Team
November 15, 1990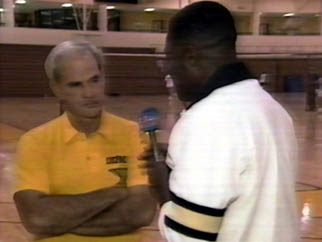 November 15, 1990, Greencastle, Ind. — "It's probably not general knowledge, but the best small college team in the nation in basketball is right here in our midst," sportcaster Don Hein told the audience of Indianapolis NBC television affiliate WTHR tonight. The station presented three live reports from DePauw University tonight, including an interview with head men's basketball coach Royce Waltman.

[Download Video: "Clip #1" - 2421kb]
The Tigers "want to get their claws back into the national finals," reported Ronnie Duncan, who presented the live shots from DePauw's Lilly Center. "They finished in the Final Four second place in the Division III national championship (last year), and they're looking forward to making that journey one more time," says Duncan.

[Download Video: "Clip #2" - 3108kb]
"You know, this recognition that we're getting this year, we're really enjoying it but we're keeping it in perspective," All-American guard Brett Crist tells the station. "We know to make the tournament this year we're going to have to win 20 games ... We're going to have to win no matter what."
"I think you're always glad to accomplish things, and I think sometimes people back off a little bit when a lot is expected of them,"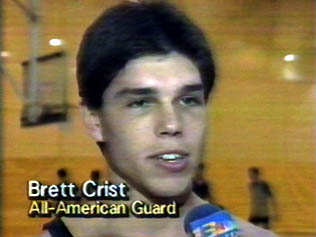 Waltman told WTHR in a live interview during the station's 6 p.m. newscast. "But we like the recognition we've received and that makes us just more eager to go out and try and do better this year."

[Download Video: "Coach Waltman on WTHR" - 3007kb]
The Tigers, who are coming off a 24-7 season, were also featured during the station's 11 p.m. newscast.
Learn more the men's basketball program at the team's official Web page.
Source: WTHR (NBC)/Indianapolis
Back