Scientific American Mind Features Prof. Matt Hertenstein's Research
August 29, 2009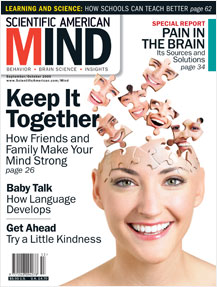 August 29, 2009, Greencastle, Ind. — "Pictures of grinning kids may reveal more than childhood happiness: a study from DePauw University shows that how intensely people smile in childhood photographs, as indicated by crow's feet around the eyes, predicts their adult marriage success," begins a story published in the September 2009 issue of Scientific American Mind. The magazine is the latest media outlet to report on research conducted by Matt Hertenstein, associate professor of psychology at DePauw University, and his students.
"According to the research, people whose smiles were weakest in snapshots from childhood through young adulthood were most likely to report being divorced in middle and old age. Among the weakest smilers in college photographs, one in four ended up divorcing, compared with one in 20 of the widest smilers. The same pattern held among even those pictured at an average age of 10."
Read the story -- "Kids' Smiles Predict Their Future Marriage Success" -- at the magazine's Web site.
This spring, Dr. Hertenstein's project received worldwide attention in media outlets including the London Daily Mail, CNN, the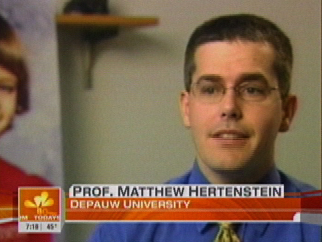 UK's Economist, the New Straits Times of Kuala Lumpur, Malaysia and NBC's Today.
Earlier this month, another of Hertenstein's projects was featured in the New York Times. "Researchers have found experimental evidence that a touch can be worth a thousand words, that fleeting physical contact can express specific emotions -- silently, subtly and unmistakably," wrote Nicholas Bakalar. Learn more here.
Visit Professor Hertenstein's Emotion Lab at DePauw online by clicking here.
Source: Scientific American Mind
Back