Susan Neville '73 & Prof. Greg Schwipps '95 are Finalists for Authors Awards
August 28, 2009

August 28, 2009, Greencastle, Ind. — Two alumni of DePauw University -- Susan Neville '73 and Greg Schwipps '95 -- are finalists for inaugural Eugene and Marilyn Glick Indiana Authors Awards. Neville, award-winning author and professor of English at Butler University, is one of three finalists in the "regional" category; Schwipps, author of What This River Keeps and associate professor of English at DePauw, is among three writers with only one published book vying for the "emerging" award.
Presented by the Marion County Public Library Foundation, the new awards seek to recognize the contributions of Indiana authors to the literary landscape in Indiana and across the nation. The program is funded by the generosity of the
Glick Fund, a fund of Central Indiana Community Foundation. The winners and finalists for the regional and emerging categories will be recognized at a September 26, awards dinner at Central Library in Indianapolis.
The national winner, James Alexander Thom, has already been announced.
Susan Neville (seen at right) is the recipient of two National Endowment for the Arts Fellowships in fiction. Her books include five works of creative nonfiction: Indiana Winter; Fabrication: Essays on Making Things and Making Meaning; Twilight in Arcadia; Iconography: A Writer's Meditation; and Sailing the Inland Sea. Her prize-winning collections of short fiction include In the House of Blue Lights, winner of the Richard Sullivan prize and listed as a "Notable Book" by the Chicago Tribune, and Invention of Flight, winner of the Flannery O'Connor Award for Short Fiction.
Of Schwipps' book, Kent Haruf, author of Plainsong declared, "What This River Keeps bears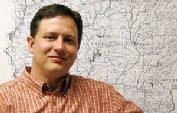 comparison to the best work of Steinbeck." Schwipps' creative nonfiction articles and essays have appeared in outdoor magazines such as Outdoor Indiana, Indiana Game & Fish and In-Fisherman. One of his short stories appeared on Esquire magazine's Web site.
Learn more about the Eugene and Marilyn Glick Indiana Authors Awards by clicking here.
Previous stories provide more information on Susan Neville and Greg Schwipps.
Back