Missy Orr '09 Wins AASHE's Student Sustainability Leadership Award
September 21, 2009
September 21, 2009, Greencastle, Ind. — Melissa D. "Missy" Orr, a 2009 graduate of DePauw University, is the recipient of the Association for the Advancement of Sustainability in Higher Education's 2009 Student Sustainability Leadership Award. The award honors an undergraduate from an AASHE member institution who has demonstrated outstanding leadership in promoting campus sustainability.
Orr, who is a fifth-year intern at DePauw supporting sustainability initiatives, will receive a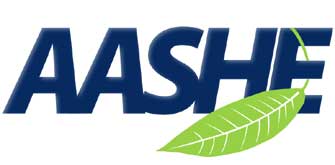 prize of $750 and will be featured in Sustainability: the Journal of Record. The award is being presented tonight at a ceremony at Greening of the Campus VIII in Indianapolis.
"The judges were especially impressed with your leadership in establishing the foundations of DePauw University's campus sustainability initiative," wrote Julian Dautremont-Smith, associate director of AASHE. "We are excited about the successes you achieved and we hope that other students can learn from and follow the wonderful example you have provided. Thank you for your leadership in creating a sustainable future."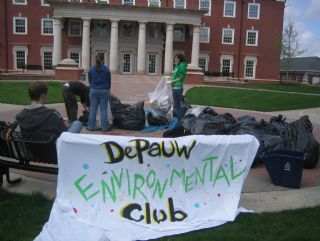 Orr co-founded the DePauw Environmental Club and led campus sustainability awareness initiatives focused topics such as composting, recycling, eco-feminism, and environmental justice. She also successfully petitioned DePauw President Brian W.Casey to sign the American College & Presidents Climate Commitment on September 15, 2008. Orr also worked with fellow students to develop an initiative to incorporate sustainability and environmental discussion into first-year orientation. As a Sustainability Intern, she also co-authored DePauw's first Sustainability Status Report.
In January 2009, Missy Orr served as the Project Intern for a sustainability service trip to Costa Rica. Her projects in Costa Rica included turtle conservation, sustainable agriculture initiatives and environmental education efforts. She also organized "Talk Green at the Blue Door," an opportunity for members of the campus and Greencastle communities to gather at a local café to discuss environmental issues. Orr was a finalist for the 2009 Walker Cup.
"Four years ago when I arrived at DePauw I fell in love," Orr writes. "However, I quickly realized that campus sustainability
programs were sparse and disconnected. As a result, sustainability wasn't much of a buzz word. There was undeniable interest within the administration as well as an untapped enthusiasm within the student population. We had a strong recycling program in addition to numerous individual efforts, but with no network to connect them both fronts could only achieve so much. There was no 'Office for Sustainability' and no first-year orientation initiatives like Start Green. Most importantly, there were no connections between disciplines on a fundamental understanding of sustainability. For these reasons, I set out to make those connections, hoping to develop networks and provide resources for students. Looking back, I realize I was actually helping to establish the foundations for what would become campus sustainability at DePauw -- foundations that I have been both honored and excited to have helped shape.
AASHE is an association of colleges and universities that are working to create a sustainable future. Learn more by clicking here.
Back