"Travel Abroad is a Terrific Educational Experience," Brad Stevens '99 Tells ESPN
August 31, 2009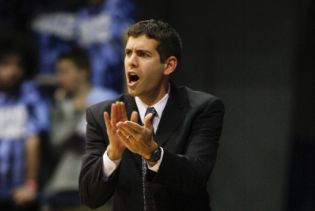 August 31, 2009, Greencastle, Ind. — "Travel abroad is a terrific educational experience,'' Brad Stevens, head men's basketball coach at Butler University and 1999 graduate of DePauw University, tells ESPN. Andy Katz writes that Stevens "played at DePauw and went to Europe during his freshman season."
"I remember being in awe of Paris," says Stevens. "To this day, one of my goals is to take my family over there when my kids are older, so that they can get the privilege of seeing first-hand the architecture, the history, the language and the culture.''
Katz's column examines cost-cutting moves by some college athletic programs to reduce or even eliminate overseas trips. (at right: Stevens playing for the Tigers)
Stevens, who was an economics major and Management
Fellow at DePauw, adds, "If I wasn't a basketball player, I would have loved to do a semester abroad. However, because the season spans both semesters, that isn't an option, so the summer tour at least gives our players a chance to briefly experience a new country."
Read more at ESPN.com.
DePauw and Butler will play basketball exhibiition games on November 1 at Hinkle Fieldhouse in Indianapolis.
Learn more about Brad Stevens, the 2009 Horizon League Coach of the Year, in this story.
DePauw ranks among the top 10 baccalaureate institutions in the nation for the total number of students who studied abroad in 2006-07, according to the 2008 Open Doors report. It is also among the "Top Producers of Fulbright Awards for U.S. Students, 2008-09" according to a chart published in the October 24, 2008 edition of the Chronicle of Higher Education.
Back