Consumers Need More Protection, Says 'List' Founder Angie Hicks '95
September 4, 2009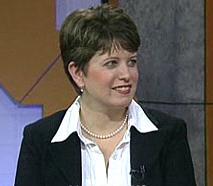 September 4, 2009, Greencastle, Ind. — Angie Hicks, founder of Angie's List and 1995 graduate of DePauw University, says "she will be sending letters to governors across the country outlining the need for better trade licensing laws," reports the Indianapolis Star. "Most trade licensing is too complicated and offers too little enforcement or protection," she tells the newspaper.
Tom Spalding writes that Hicks believes "clearer laws are needed to give consumers an assurance that anyone holding a license is qualified to do the job it covers. The Indianapolis company (yesterday) said it asked lawmakers from the East Coast to the West Coast to 'enact uniform and understandable trade licensing laws' and also to use licensing fees to pay for consumer protection funds, as a few states already do. That way, homeowners who are bilked by licensed contractors -- for such things as fixing a leaky faucet or clearing out a gutter -- can recover their lost investments."

Read more at IndyStar.com.
More than 750,000 consumers use Angie's List to find high quality contractors, service companies and doctors who are rated by fellow members.
This summer, Angie Hicks received a Clarion Award for a package of three of her monthly columns in the magazine which is sent to members of Angie's List. Details can be found in this previous story.
Back