"Intensity of Politics" Has Increased in Recent Years, Lee Hamilton '52 Tells Washington Post
September 6, 2009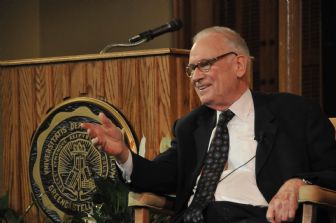 September 6, 2009, Greencastle, Ind. — "You gotta rebuild the dormant center," Lee Hamilton tells the Washington Post. Hamilton, a 1952 graduate of DePauw University, is billed by the newspaper as "the former Democratic congressman who was known as a centrist during his decades in the House." He is quoted in a story which examines the increasingly partisan politics of Capitol Hill.
Hamilton, who served 34 years in the House of Representatives, remembers a very collegial environment when he came to Washington. "The biggest change in politics from when I came into the Congress in 1965 and today is the intensity of politics," he tells the Post. "You have a lot of difficult issues out there, you have interest groups out there. They're more sophisticated. They have better means of communication. They're better-financed."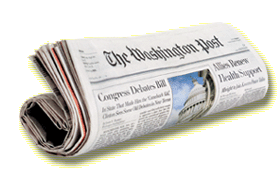 The story by Joel Achenbach notes, "President Obama came into office vowing to end the old divisions of Washington. That may be his signature failure to date. The divide between the parties has turned into a gulf. There is essentially no middle anymore. If you see a prone body in the Capitol, it belongs to someone who toyed with being a centrist."
Read the complete article, "Bipartisan? Ha. Congress Creates a Desert Aisle," at the Post's Web site.
Lee H. Hamilton is now president and director of the Woodrow Wilson International Center for Scholars and is co-chairing the new National Security Preparedness Group. Read more about him in this recent story.
Back