DePauw Battles to Tie with 21st-ranked Carleton
September 5, 2009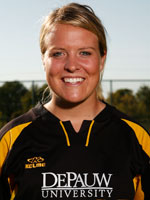 September 5, 2009, Wheaton, Ill. — In their third straight contest against a nationally-ranked team, the Tigers finished in a 1-1 tie to 21st-ranked Carleton at Wheaton College's Bob Baptista Invitational. Both teams are now 0-2-1 on the season.
Linnea Carlson gave the Knights a 1-0 lead just 14:36 into the contest on an assist from Jill Merkle, but DePauw's Julia Drummond (pictured) knotted the contest with an unassisted goal just 16 seconds into the second half.
Carleton held a 29-21 edge in shots, while each team finished with seven corners. Lauren Palfrey recorded five saves in the first half, while Caroline Kerr posted six saves and didn't allow a goal in the second half and both overtime periods.
The Knights' Beth Ashinksky recorded two saves without allowing a first half goal, while Kate Trenerry totaled five saves and allowed one goal in the second half and both overtimes.
DePauw hosts Ohio Northern on Friday, September 11, at 7:30 p.m. as part of the DePauw Invitational with Centre and Wittenberg squaring off at 5:30 p.m.
Back