Creator of Desiderata, 1894 Graduate Max Ehrmann, Honored by His Hometown
September 7, 2009
September 7, 2009, Greencastle, Ind. — Max Ehrmann, an 1894 graduate of DePauw University who penned the noted poem, Desiderata, is being honored by his hometown. "The Tribune-Star chose to add Ehrmann to its Terre Haute's Top 40 list of people, places and things that are unique to our city or connect the outside world to this town," writes the newspaper's Mark Bennett.
"By 1927, Ehrmann had left his law practice and a family business to pursue his passion -- writing -- and produced a prolific repertoire of poems," notes Bennett. "He wrote in prose style, ruminating and philosophizing without rhymes. Some of his offerings received notoriety, such as A Prayer from 1906. But Ehrmann's choice to stay in the small Indiana city where he was born, instead of New York or Chicago, limited his exposure in the literary world. Ehrmann was 55 years old when he began constructing a 314-word piece of advice. He called it Desiderata, a Latin word meaning 'desired things.' Its passages urged people to see the world's beauty and troubles through wise, hopeful and unjaded eyes. Ehrmann wrote it for himself, 'because it counsels those virtues I felt most in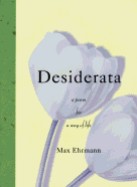 need of,' he once recalled. But years after the poet's death in 1945, Desiderata became an iconic life mantra for millions throughout the planet."
Adlai Stevenson had a copy of the poem near his bedside when he died in 1965, and after word the former presidential candidate had planned to use Desiderata in his Christmas card, the work gained notoriety. As Bennett notes, "Unfortunately, Ehrmann received no recognition at that moment. The copy at Stevenson's bedside was a reprint of a reprint, inaccurately attributing the poem to an unknown, 17th-century author. That mixup became almost as legendary as the poem itself." It wasn't until the early 1970s that Ehrmann received credit for his poem.
"It got etched into pop culture immortality in late 1971, when Los Angeles disc jockey Les Crane recorded a spoken-word version of Desiderata, backed by soaring background singers and instrumentation," the Tribune-Star columnist points out. "That single reached No. 8 on the Billboard charts, and earned Crane a Grammy
Award. Soon, famous folks like Johnny Cash, Bing Crosby and Vincent Price were reciting Ehrmann's lines on national TV ... Even though that pinnacle moment for Desiderata passed, its timeless message survives 82 years after Ehrmann had it copyrighted. Astute Johnny Depp fans will notice the poem's presence in his 2007 movie Pirates of the Caribbean: At World's End. In it, free-spirited pirate Jack Sparrow (played by Depp) has 'Desiderata' tattooed onto his back.
A fundraising drive is under way to create a statue, bench, landscaping and bronzed poem honoring Max Ehrmann in downtown Terre Haute, "so a visitor can sit down next to Max and read his most highly acclaimed work," Bennett writes.
As Ehrmann himself once stated, "Perhaps even when I'm dead, some browser in libraries will come upon me and, seeing that I was not altogether unworthy, will resurrect me from the dust of things forgotten."
In the newspaper, Mark Bennett provides two articles on Max Ehrmann and notes that he researched the pieces at DePauw, which "maintains a well-stocked
archive of his personal notes, photos and correspondences." Read the articles here and here.
You'll find the poem Desiderata here.
In 2006, Prairie Business magazine called Max Ehrmann "one of the greatest spokesmen of the 20th century."
Back