21 Selected to Present Questions at Friday's Rove-Dean Debate
September 8, 2009
Also: Original Announcement of Dean-Rove Debate; Friday's Debate to be Webcast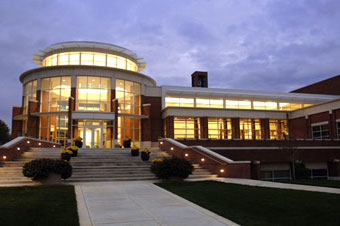 September 8, 2009, Greencastle, Ind. — Twenty-one individuals, including 13 DePauw University students, have been selected to ask questions of Howard Dean and Karl Rove during Friday night's debate. The names were drawn this morning, the result of a lottery which was announced on August 28.
"The goal was to engage members of the DePauw community, and we've wound up with a nice cross-section of our constituencies," says Ken Owen '82, executive director of media relations at DePauw and coordinator of the Timothy and Sharon Ubben Lecture Series, which is presenting Friday's program. (at right: Governor Dean; below left: Karl Rove)
In addition to the 13 students -- who represent each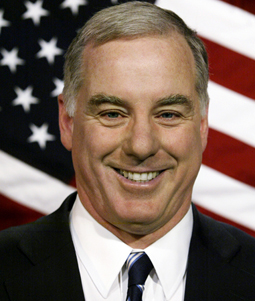 of DePauw's current four classes -- the list of questioners includes six alumni, one professor, one member of the University's staff, and Greencastle Mayor Sue Murray. Winners of the lottery are being notified by e-mail; circumstances will dictate how many questions can be taken during the 90-minute program.
As previously announced, Bruce Stinebrickner, professor of political science at DePauw, will moderate the debate.
Entrants in the lottery were only asked to state their names and their connections to DePauw. There has been no pre-screening of questions, but participants are being asked to keep their questions succinct and to the point.
Karl Rove is the former chief political adviser to President George W. Bush. Howard Dean, former governor of Vermont, recently completed a four-year term as chairman of the Democratic National Committee.
The DePauw event will mark the first time the two men have appeared together in a public event on a college campus.
The program, presented by the Timothy and Sharon Ubben Lecture Series, will begin at 7:30 p.m. in Kresge Auditorium of the Green Center for the Performing Arts (605 S. College Avenue). Doors will open at 6 p.m. Should the auditorium fill to capacity, the event can be seen via a closed-circuit feed in a nearby theatre. Those who can't make the trip to Greencastle are invited to tune in to a live webcast. The program will be available via this link and will remain archived for two weeks following the event.
Like all Ubben Lectures, the Rove-Dean debate is free and open to all. Seating is general admission and no tickets are required.
Established in 1986 through the generous support of 1958 DePauw graduates Timothy H. and Sharon Williams Ubben, the Ubben Lecture Series was designed to "bring the world to Greencastle" and presents events which are available for students, faculty, staff,
alumni and the local community to enjoy. Previous guests have included Tony Blair, Benazir Bhutto, Mikhail Gorbachev, General Colin Powell, Elie Wiesel, Margaret Thatcher, Bob Woodward, Shimon Peres, Andrew Young, Doris Kearns Goodwin, Spike Lee, Peyton Manning, Mitch Albom, Greg Mortenson, William Cohen, James Lovell, Naomi Wolf, General Wesley Clark, David Plouffe, Ferid Murad '58, Gwen Ifill, Todd Rundgren, E.O. Wilson, Jesse Jackson, Ambassador L. Paul Bremer, Mike Krzyzewski, Paul Rusesabagina, George Will and Jane Pauley. (at right: Todd Rundgren visiting with students at WGRE before his Ubben Lecture at DePauw; April 8, 2009)
To view a complete roster of Ubben Lecturers -- which includes links to video clips and news stories -- click here.
Back