Former Indianapolis Colts Running Back James Mungro Joins DePauw Football Staff
September 8, 2009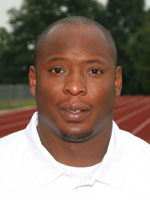 September 8, 2009, Greencastle, Ind. — James Mungro, former Indianapolis Colts running back, has been named a part-time assistant on the DePauw football staff and will serve as running backs coach.
"The DePauw football family is extremely excited to welcome James Mungro to our staff," interim head coach Robby Long said.
"James comes to us with a great deal of knowledge of the game of football and strong leadership qualities. Not only has he accomplished a great deal on the field he has also done great work professionally and in the community."
Mungro played for the Colts from 2002-06 and was a member of their 2006 Super Bowl champion squad. In his rookie campaign, Mungro rushed for 336 yards and eight touchdowns including a 114-yard effort against the Philadelphia Eagles in his first NFL start.
In 2004, he caught Peyton Manning's NFL record-tying 48th touchdown pass against San Diego.
He earned a bachelor of science degree from Syracuse University and majored in selective education. While at Syracuse, Mungro rushed for 2,869 career yards with 29 rushing touchdowns including 1,170 yards and 14 scores as a senior. In 2001, he earned Insight.com Bowl MVP honors against Kansas State and did the same in the 1999 Music City Bowl against Kentucky.
Mungro was a Parade and Street and Smith's high school all-America selection at East Stroudsburg (Pa.) High School where he also was the Pennsylvania Player of the Year as a junior and an all-state selection in each of his final two seasons. He set 48 team records during his high school career and rushed for 8,432 career yards including 2,541 as a senior.

He serves as chair of the Scholarship/Development Committee for the Rhodes to Success Foundation and founded the James Mungro Scholarship Fund in 2002. Most recently he has served as head coach of the Indiana Warriors semi-pro team of the North American Football League.
DePauw, ranked 23rd in the latest D3football.com Top 25 poll, opens the 2009 season on Saturday, September 12, at Anderson. Kickoff is set for 7 p.m. with the live WGRE broadcast available here.
Back