Media Outlets Weigh in Following Dean-Rove Debate
September 12, 2009
Also: Summary of the Dean-Rove Debate at DePauw
September 12, 2009, Greencastle, Ind. — "National political heavyweights Karl Rove and Howard Dean, both known for intense party allegiance, squared off before a capacity audience Friday with respect and civility but agreed on little -- except for the need for respect and civility in public discourse," writes Diana Penner in this morning's Indianapolis Star. "And that is something many in the audience appreciated." (photo by Alex Turco '10)
Penner notes, "The two men agreed on one point -- that the nation's borders should be more secure when it comes to immigration policy -- but on few other issues. They disagreed on solutions to the nation's budget woes, health-care reform and a host of other questions posed by students, alumni and others in the DePauw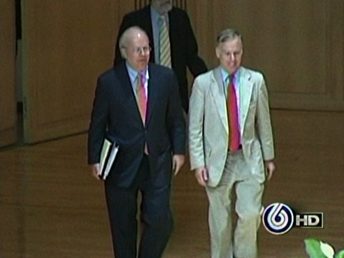 community. After the debate, the two men shook hands and embraced. Dean took Rove's hand and raised it above his head, drawing enthusiastic applause from the audience."
The Star points out that last night's program was presented by the Timothy and Sharon Ubben Lecture Series. "About 1,400 people filled DePauw's Kresge Auditorium, and 600 more listened in an overflow seating auditorium. All of the series lectures and speeches are free and open to the public."
Read the complete text -- headlined "In DePauw debate, Rove, Dean agree on need for civility" -- at IndyStar.com.
A story in today's Banner-Graphic of Greencastle begins, "In the 23-year history of the Ubben Lecture series at DePauw, no debate had been conducted prior to Friday night's event featuring Howard Dean and Karl Rove. In what was described by moderator Dr. Bruce Stinebrickner as a 'spirited, interesting, and, above all, informative event,' the pair of political heavy hitters did not disappoint a packed house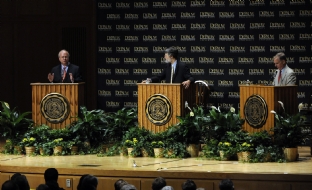 in Kresge Auditorium."
You'll find the complete article at the newspaper's Web site.
DePauw's Dean-Rove debate was the lead story on Indianapolis ABC affiliate WRTV's 11 p.m. newscast last night:

[Download Video: "WRTV Report" - 3711kb]. A summary can be accessed at the IndyChannel.com.
A summary of last night's event -- including video clips and images -- can be found here.
Back