"Viewers Haven't Connected" with CBS' Katie Couric: Prof. Jeff McCall '76
September 12, 2009
September 12, 2009, Greencastle, Ind. — "Michael Jordan was a great athlete who had a remarkable basketball career, but he flopped when he quit basketball to pursue pro baseball," writes Jeffrey M. McCall, professor of communication at DePauw University, in the Indianapolis Star. "Greatness in one venue doesn't guarantee it in a different context. So it seems with Katie Couric. She did great in a chatty morning news format, but her skill set hasn't transferred to the evening anchor desk."
In an op-ed column, Dr. McCall notes that Couric took over as anchor of the CBS Evening News three years ago this month, but with the program's ratings down by about 50% since their peak when she first joined the show, "even the most ardent Katie backers at CBS must be wondering if she can make it ... Diane Sawyer's upcoming move to the anchor chair of ABC's World News makes Couric's challenge more difficult. The novelty of being the only female major network
anchor will be gone, and whatever audience there is dedicated to watching a female anchor will be divided."
According to McCall, author of Viewer Discretion Advised: Taking Control of Mass Media Influences, "Audiences develop parasocial interactions with news anchors, and they want anchors who are credible journalists, have likable personalities and appear to be hardworking. Couric seems to be all of that, but viewers haven't connected. A recent Rasmussen Reports study indicates that 38 percent of Americans have an unfavorable opinion of Couric, 10 points worse than her competitors, Charles Gibson at ABC and Brian Williams at NBC. The Rasmussen study shows 39 percent of those polled identify Couric as liberal, compared to 25 percent for Williams and 26 percent for Gibson."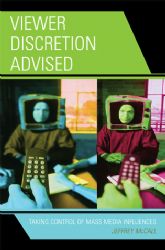 The professor adds, "None of this is to say that Couric isn't a bright and talented broadcaster; she is. The Radio Television News Directors Association has named Couric's broadcast the best evening newscast two years in a row. Her success on NBC's Today speaks for itself, but that audience apparently didn't follow her to evenings."
You'll find the complete column at College News.org.
Jeff McCall was recently quoted by Froma Harrop in her nationally distributed Creators Syndicate column. A 1976 graduate of DePauw, McCall is a widely quoted expert on media matters and has been cited in articles published by approximately 100 newspapers. Learn more in this story.
Source: Indianapolis Star
Back