Prof. Micah Ling '03 Authors Poetry Collection, Three Islands
September 16, 2009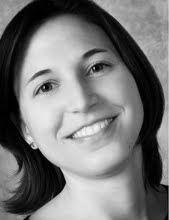 September 16, 2009, Greencastle, Ind. — Micah Ling, part-time assistant professor of English at DePauw and 2003 graduate of the University, has authored Three Islands. In the book of poetry, Ling "brings together the three colossal figures of Amelia Earhart, Robert Stroud (the Birdman of Alcatraz), and Fletcher Christian to examine the solitude and madness that comprises their slight degrees of separation," notes a synopsis. "Existing in the channel between fact and fiction, these poems deftly swim among the slight nuances that divide captivity, isolation, and escape."
"I started thinking about each of the three characters together, and I actually got a huge map of the Pacific Ocean and mapped out each of their supposed locations, and it made a perfect triangle," Ling tells the Indiana Daily Student (she is also an associate instructor of English at Indiana University). "And then I was seeing all these kinds of overlap, so then I started thinking of it all as a collection of poetry."
Professor Ling, who majored in English (writing) at DePauw, adds, "We all deal with times of loneliness, times when we wish we could escape, times of isolation -- and that's just an utterly human thing to deal with," "And these are maybe the three most extreme situations."
Poet Eugene Gloria, associate professor of English at DePauw and author of Drivers at the Short-Time Motel and Hoodlum Birds,
opines, "In Three Islands, Micah Ling straddles the difficult balance between researcher and poet. Out of wreckage and ruin, Ling revisits the lives of Fletcher Christian, Amelia Earhart, and Robert Stroud and inhabits the solitariness of her subjects without sentimentality. These luminous poems are deceptively plain, urgent, and brave."
Adds Kevin Young, author of Dear Darkness and Jelly Roll, "With Three Islands, Micah Ling reaches a poetry pinnacle: a triad of poems which enacts rather than merely describes, journeys far rather than merely travels. For Ling, these voices -- from Amelia Earhart, the Birdman of Alcatraz, and Fletcher Christian's mutiny on the Bounty -- are opportunities to explore the self stranded, lost, captured, and ultimately freed. Her poems are musical and filled with meaning, islands only in name. Hers is an archipelago of excellence -- reader, I envy your first, but surely not your last, visit to these pages."
Read more by clicking here, or order the new book at Amazon.com.
Back