Late Tiger Goal forces Overtime in 2-2 Tie with Wabash
September 16, 2009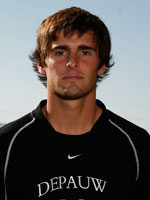 September 16, 2009, Crawfordsville, Ind. — DePauw trailed 2-0, but scored twice in the final 12 minutes to force overtime in a 2-2 tie at Wabash. The 23rd-ranked Tigers are now 3-0-1 on the season, while the Little Giants are 2-3-1.
After a scoreless first half, Austin Jennings put Wabash on the board at 63:13 on Dave Rosborough's assist before Mark Babcock made it 2-0 with a penalty kick at 73:50.
The Tigers cut the lead in half when Beau Sorg (pictured) banged in a free kick at 78:38. DePauw knotted the contest when Sorg sent a free kick to Jent Botterman. Botterman then headed it to Brian Lawless who knocked it in with 21 seconds left.
Wabash outshot the Tigers 14-12, while DePauw held a 5-3 edge in corners. Nate Sprenkel recorded three saves for the Tigers, while Pat Wet had three for Wabash.
The tie was the second straight in the series after the first 45 meetings without one.
DePauw travels to Ohio Wesleyan on Saturday where it will take on the third-ranked Battling Bishops.
Back