Tigers Rally from Second-Half Deficit before Losing at Wittenberg
September 16, 2009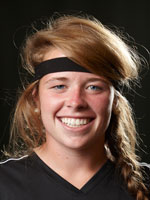 September 16, 2009, Springfield, Ohio —DePauw rallied from a 3-1 deficit to tie the game, but host Wittenberg scored with less than four minutes left and took a 4-3 win over the Tigers. DePauw dropped to 3-3 on the season, while Wittenberg improved to 3-1.
Tori Casanta gave Wittenberg a 1-0 lead at 33:56 on Elizabeth Dwyer's assist before Addie McDonnell (pictured) knotted the score just 47 seconds into the second half.
Casanta made it 2-1 at 44:13 before Kellen Morrissey scored on an assist from Boo Vernon a 44:13 to push Wittenberg's lead to 3-1. DePauw's Kimberly Trainor scored at 45:59 before McDonnell evened the contest at 3-3 at 53:12. Vernon then delivered the game-winner from Casanta with 3:28 left.
Each team had 15 shots, while Wittenberg held a 7-2 edge in corners. Liz Attewell recorded eight saves for the Tigers, while Wittenberg's Liana Began had two.
DePauw faces Denison on Saturday in a game scheduled to be played at Bellarmine.
Back