ESPN Founder Bill Rasmussen '54 Helps Network Celebrate its 30th
September 13, 2009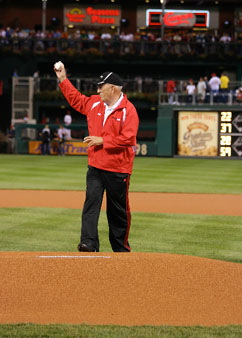 September 13, 2009, Greencastle, Ind. — Bill Rasmussen, founder of ESPN and 1954 graduate of DePauw University, threw out the ceremonial first pitch at tonight's Major League Baseball game between the Philadelphia Phillies and New York Mets at Philadelphia's Citizens Bank Park. Rasmussen's appearance was part of the celebration marking the 30th anniversary of ESPN, which televised the contest.
Meanwhile, the Los Angeles Times quotes Rasmussen, whose latest venture is College Fanz Sports Network, as saying, "I used to watch all the hockey with John Buccigross and Barry Melrose on ESPN. I can't tell you where to find hockey right now. It's sad." In an interview conducted by Canada's Globe and Mail, Rasmussen adds, "I can't help but think [the NHL] is missing something in walking away from [ESPN]. Look what ESPN does for Major League Baseball on Baseball Tonight -- wall-to-wall, full-season coverage of the entire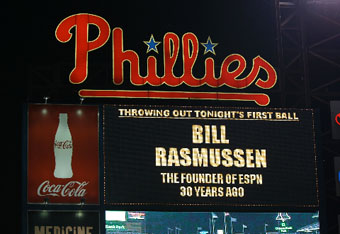 season and playoffs. The NHL had that ancillary programming on ESPN and just walked away from it. I just don't understand."
Access the piece at the Times' Web site.
Learn more about Bill Rasmussen in this recent story.
ESPN was co-founded by Rasmussen's son, Scott, a 1986 graduate of DePauw who is a nationally-recognized pollster.
Back