President Casey Discusses Range of Issues on NPR Affiliate
September 18, 2009
September 18, 2009, Greencastle, Ind. — Discussing DePauw University's sustainability efforts on National Public Radio affiliate WFIU this afternoon, President Brian W. Casey said,

[Download Audio: "Dr. Casey on Noon Edition" - 257kb] "What we're doing is actually catching up to our students' interests." Noting that DePauw recently measured its carbon footprint as part of signing the American College & University Presidents Climate Commitment, Casey added, "We have a group of students who are so wound up about this. It's the question of our time."
The president

pointed out that the University has implemented initiatives to conserve and reduce its use of resources and a campus planning project now underway will include a focus on sustainability. He told the NPR station's Noon Edition, "Not only are we trying to address this institutionally as an operation, but it's infusing so many parts of our curriculum right now and the students just, they're just bringing this energy to it. We're sprinting to catch up with them."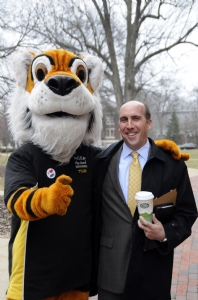 On today's program, President Casey discussed a wide range of issues, including the University's commitment to enhancing its intellectual life and his concerns about the affordability of higher education.
Dr. Casey was joined on the show by Indiana State University President Daniel Bradley.
You can hear the complete hour-long program, which is archived at WFIU's Web site.
Previous DePauw guests on Noon Edition have included: Robert Calvert, professor emeritus of political science; Kerry Pannell, associate professor of economics and management; Jeff McCall, professor of communication; Brett O'Bannon, associate professor of political science; Ken Owen '82, executive director of media relations; Carol Steele, associate dean of academic affairs; and Eric K. Silverman, former associate professor of sociology and anthropology.
Back