Late Tiger Comeback Falls Short in Football Home Opener
September 19, 2009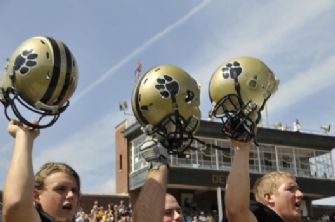 September 19, 2009, Greencastle, Ind. — Centre College intercepted a DePauw University pass two-and-a-half minutes into today's game at Blackstock Stadium and returned it 75 yards for a touchdown, and the visiting Colonels never looked back. Centre rolled to a 34-3 lead before the late-charging Tigers, who came into the game ranked #20 in the nation, made it a contest with 21 points in the fourth quarter. But Centre prevailed, 34-24.
The loss drops DePauw -- which won its opener last Saturday at Anderson 55-7 -- to 1-1 on the season and 0-1 in Southern Collegiate Athletic Conference play. The Colonels are now 3-0, 1-0.
DePauw, which collected a school record 665 yards of total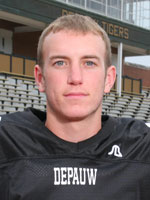 offense last weekend, were held to a 24-yard field goal by Ethan Schweir in the first half. Centre took a 27-3 lead into halftime.
It was 34-3 when the Tigers scored their first touchdown with 9:36 remaining in the game when Jon Ellis ran in from a yard out. With 6:38 left, Michael Engle (pictured at right) connected with Alex Koors on a 45-yard touchdown pass, and the two-point conversion was successful, bringing the Tigers within two scores, 34-18.
Things became even more interesting with 3:24 to go, when a leaping Koors grabbed a 20-yard pass from Engle in the end zone, but the two-point try was not successful this time.
The Tigers were driving again with the ball at Centre's 2-yard-line, when Engle was intercepted with 1:26 on the clock, dashing DePauw's hopes of a miraculous comeback.
Senior quarterback Spud Dick was intercepted three times. He completed 19-of-34 passes for 155 yards before leaving the game after taking a big hit. Engle, in relief, completed 14-of-24 for 196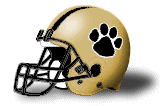 yards and two TDs.
Junior Brayden Dahlstrom led the Tigers with 10 receptions for 73 yards. Koors had 6 catches for 146 yards and the two touchdowns.
DePauw collected 351 yards through the air on the afternoon, but the black and gold were held to only 44 yards rushing.
The Tigers travel to Tennessee next Saturday for an SCAC game at Sewanee (University of the South).
You'll find comprehensive information, including statistics and historical data, at the official home of DePauw football.
Back