DePauw Wins Anderson Fall Invitational; Haller Takes Medalist Honors
September 20, 2009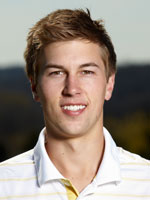 September 20, 2009, Anderson, Ind. — DePauw shot a two-round 587 and won the Anderson Fall Invitational by 18 strokes over Franklin. The Tigers shot a 293 in the first round and followed it up with a 294 today.
Peter Haller (pictured) earned medalist honors after shooting a 143 including a tournament-best 69 in the second round. Chase King was in second with a 145 including an opening-round 71, while Ryan Berra finished fourth at 148. Nick Reardon and Ronnie Harris tied for sixth at 153.
The Tigers compete in the Franklin Invitational, September 27-28.
Follow DePauw Athletics on Twitter | Become a Fan of DePauw Athletics on Facebook
Anderson University Fall Invitational
Anderson C.C.
Anderson, Ind.
Dates: 9/19-20/2009
Par 72, 6654 yards  (7 teams, 52 players)

DePauw University............. 293 294   587   +11      1st
Peter Haller..................  74  69   143    -1      1st
Chase King....................  71  74   145    +1      2nd
Ryan Berra....................  72  76   148    +4      4th
Ronnie Harris.................  78  75   153    +9   t- 6th
Nick Reardon..................  76  77   153    +9   t- 6th

Franklin College.............. 306 299   605   +29      2nd
Eric Whitaker.................  74  73   147    +3      3rd
Mitchell Simmons..............  75  75   150    +6      5th
Tom Moore.....................  77  77   154   +10   t- 9th
Matthew Payne.................  80  74   154   +10   t- 9th
Jason Kaylor..................  85  82   167   +23   t-34th

Mt. St. Joseph, College of.... 320 311   631   +55   t- 3rd
Nick Barlow...................  79  78   157   +13   t-12th
Dean Kruschinski..............  79  78   157   +13   t-12th
Ges Stover....................  81  78   159   +15   t-17th
Jeremy Nichols#...............  82  78   160   +16   t-21st
Will Schau....................  81  79   160   +16   t-21st
Chris Lamb....................  84  77   161   +17   t-23rd
Devin Cain#...................  80  82   162   +18   t-26th
Chad Beatty#..................  81  84   165   +21   t-32nd
Robby Keever#.................  82  85   167   +23   t-34th
Max Miller#...................  83  84   167   +23   t-34th
Craig Lamson#.................  84  85   169   +25   t-39th
Ryan Katsetos#................  92  89   181   +37     49th
Brandon Wolfram#.............. 102  83   185   +41     51st

Wabash College................ 324 307   631   +55   t- 3rd
Luke Moton....................  76  77   153    +9   t- 6th
Sam Russell...................  79  78   157   +13   t-12th
Kyle Nagdeman.................  87  74   161   +17   t-23rd
Andrew Palmer.................  83  80   163   +19   t-28th
Jordan Koch...................  86  78   164   +20   t-30th
Michael Piggins#..............  87  89   176   +32     46th
Terry Sullivan#...............  88  90   178   +34     47th
Ryan Cronin#..................  88  92   180   +36     48th
Matt Lopp#....................  89  95   184   +40     50th
Ben Foster#...................  79  wd 

Hanover College............... 325 314   639   +63      5th
Marcus El.....................  77  79   156   +12     11th
Vikram Ramjee.................  81  76   157   +13   t-12th
Jacob Hopper..................  84  78   162   +18   t-26th
Austin Stagman................  83  81   164   +20   t-30th
Will Taylor#..................  83  88   171   +27     42nd
Andrew Wibbels................  90  85   175   +31     45th

Anderson University Fall Invitational
Anderson C.C.
Anderson, Ind.
Dates: 9/19-20/2009
Par 72, 6654 yards  (7 teams, 52 players)

Anderson University........... 325 322   647   +71      6th
Stephen Perkey................  80  78   158   +14     16th
Justin Lane...................  78  81   159   +15   t-17th
Jeremy Redman#................  80  81   161   +17   t-23rd
Bubba Lentscher...............  80  83   163   +19   t-28th
Kevin O'Bold..................  87  80   167   +23   t-34th
Kent Wohlberg#................  88  80   168   +24     38th
Caleb Cunningham#.............  85  84   169   +25   t-39th
Jordan Roberts................  90  83   173   +29     44th

Rose-Hulman Institute of Tech. 330 321   651   +75      7th
Aaron Kiraly..................  82  77   159   +15   t-17th
Cliff Parsons.................  82  77   159   +15   t-17th
Eric Kamer....................  82  83   165   +21   t-32nd
Dan Stanage...................  86  84   170   +26     41st
Brian Kiraly..................  84  88   172   +28     43rd

# Indicates individual player

Back