Music, Traditions and Alumni Achievement to be Celebrated Over Old Gold Weekend
September 24, 2009
Also: Old Gold Weekend Schedule
September 24, 2009, Greencastle, Ind. — A celebration of the 125th anniversary season of the DePauw University School of Music, alumni awards, and the traditional football game are among the highlights of Old Gold Weekend 2009. A number of events are scheduled for Friday through Sunday, October 2-4.
At Friday evening's Alumni Achievement Awards dinner, Pulitzer Prize-winning journalist and author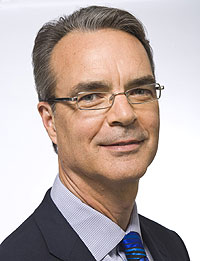 James B. Stewart Jr. '73 (pictured) will receive the Old Gold Goblet. Awarded each year since 1941, the goblet is given for "eminence in life's work and service to alma mater."
Jason A. Asbury '95 will receive the Young Alumni Award.
In addition, five alumni will receive Distinguished Alumni Achievement Awards:
Distinguished Alumni Achievement Award for Citizenship and Voluntary Service - Maclyn Parker '51
Distinguished Alumni Achievement Award for Creative and Performing Arts - Margaret McElwain Kemper '60
Distinguished Alumni Achievement Award for Management and Entrepreneurship - Mark Emkes '75
Distinguished Alumni Achievement Award for Media - Norval Reece '56
Distinguished Alumni Achievement Award for Professional Achievement - Dr. Kenrad Nelson '54
As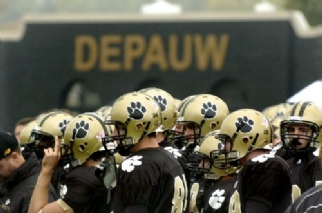 part of the DePauw School of Music's 125th anniversary season, a PRISM concert will be presented on Saturday evening at 7:30 p.m. with a reception and tours of the Judson and Joyce Green Center for the Performing Arts following the performance. Over Old Gold Weekend, faculty panels will be presented on "Post-Classical Music" and "Ethnomusicology."
The weekend's agenda also includes celebrations of Sigma Chi fraternity's 150th anniversary and Delta Gamma sorority's 60th anniversary.
Per tradition, Saturday will include the annual Old Gold Day football game. This year, the Tigers will host Southern Collegiate Athletic Conference rival Millsaps College.
For more information about Old Gold Weekend 2009, click here.
Back