October 3 PRISM Concert to Celebrate School of Music's 125th Anniversary
September 25, 2009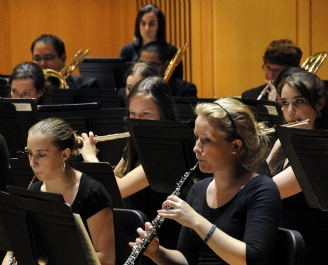 September 25, 2009, Greencastle, Ind. — DePauw University's School of Music will celebrate its 125th season with a Saturday, October 3, PRISM concert. The program, which begins at 7:30 p.m., will feature a wide variety of works performed by University ensembles, including the DePauw Univesity Band, DePauw University Orchestra, DePauw Jazz Ensemble, DePauw Chamber Singers, DePauw University Chorus, and the DePauw Percussion Ensemble.
Additionally, solo and small ensemble works will be presented by professors Pamela Coburn '74, Eric Edberg, John Clodfelter '94, Carla Edwards, Randy Salman, and Craig Paré, and an improvisation by DePauw School of Music students Jeremy Eberhard '10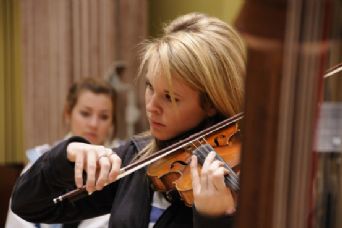 and Philip Blaine '10.
The concert, presented as part of DePauw's 2009 Old Gold Weekend festivities, will take place in Kresge Auditorium of the Judson and Joyce Green Center for the Performing Arts and is free and open to the public.
"One hundred and twenty-five years ago, a new music school was created in the rural farmland of Indiana," says Scott C. Spiegelberg, associate professor in the DePauw University School of Music and coordinator of the concert. "We are now celebrating our past and present, and looking to our future."
The School of Music at DePauw University is one of the oldest private institutions for post-secondary music instruction in the United States. Its origins date to 1881, when five students enrolled in pianoforte and organ lessons in the department for musical instruction at Indiana Asbury. In 1884, when Indiana Asbury was renamed DePauw University, the School of Music was also officially founded.
The School of Music celebrated its centennial in 1984 with a repeat performance of the first recital in School of Music history, a program of piano works performed originally by Dean James Hamilton Howe in 1884. This year's PRISM concert is also designed to be an exceptional celebratory event. (at left: Aaron Copland at the DePauw School of Music in January 1971)
"Multimedia presentations will show the progress of time and music at DePauw in the last 125 years, highlighting our dedication to new music and improvisation, stars in our faculty, and the various homes for the School of Music including the new Judson and Joyce Green Center for the Performing Arts," states Spiegelberg.
The DePauw School of Music has established itself as a leader in American higher education with a reputation for producing excellent music educators, performers, and scholars. Its unique size -- approximately 150 to 175
undergraduates -- makes possible a full complement of musical opportunities and degree programs, while maintaining an intimate, nurturing educational atmosphere. From its finely-tuned and progressive curriculum to its busy performance calendar, the vibrant School of Music of today is founded on a rich history populated with top-notch faculty members and legendary visiting artists.
The celebration of the School of Music's 125th season will continue throughout the academic year with a variety of master classes, convocations, concerts, and discussion panels. For updates, click here.
Back