Sewanee Tops Tigers in Two Overtimes
September 25, 2009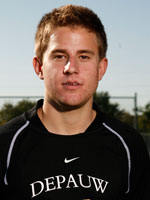 September 25, 2009, Sewanee, Tenn. — Sewanee's Zack Goodwin scored with 2:03 left in the second overtime and lifted his team to a 2-1 Southern Collegiate Athletic Conference win over DePauw. DePauw dropped to 3-2-1 overall and 0-1 in the SCAC, while Sewanee improved to 5-2 overall and 1-0 in conference play.
Brad Kean (pictured) gave DePauw a 1-0 lead at 26:32 before Sewanee knotted the score at 1-1 on Garrett Schlosser's score at 53:37.
DePauw outshot Sewanee 19-14 including 11-1 in the first half. The Tigers also held a 5-4 edge in corners.
Nate Sprenkel totaled two saves in the loss, while Chris Grover totaled eight for Sewanee.
The Tigers return to action on Sunday at Oglethorpe.
Back