Tigers Overcome Sewanee and Soaked Football Field, 3-0
September 26, 2009
September 26, 2009, Sewanee, Tenn. — A rain soaked playing field limited opportunities for both offenses to move the football, but DePauw University bested host Sewanee (University of the South), 3-0, in Southern Collegiate Athletic action this afternoon. The triumph improves DePauw to 2-1 on the season and 1-1 in the SCAC. Sewanee is now 0-3 and 0-1 in conference play.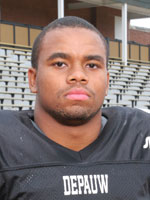 The first half was played in a driving rain, and the only scoring was a field goal by DePauw's Ethan Schweir.
The rain let up in the second half but standing water on the gridiron made moving the ball difficult. The DePauw defense limited Sewanee to 30 yards of total offense for the entire game, including 4 yards rushing on 27 carries. The home team managed to collect only three first downs.
DePauw's Jon Ellis (pictured at right) carried the ball 27 times for 85 yards. His teammate Derrick Karazsia had 22 rushes today for 72 yards.
Senior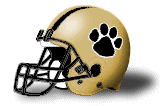 quarterback Spud Dick, who left last week's loss versus Centre after taking a big hit, did not play today. Junior Michael Engle quarterbacked the Tigers.
Next Saturday the Tigers host SCAC foe Millsaps College in the Old Gold Day game at Blackstock Stadium.
For comprehensive coverage of Tiger football, visit the team's online page.
Pre-orders are being accepted for the limited edition DVD of the 116th Monon Bell Classic, which will be played November 14. Details and an online order form can be found here.
Back