St. Mary's Wins Small College Classic; Tigers Finish Second
September 27, 2009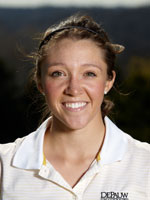 September 27, 2009, Clayton, Ind. — St. Mary's (Ind.) shot a two-round 635 and won the DePauw Small College Women's Golf Classic by 18 strokes over DePauw at the Deer Creek Golf Club. Olivet was third at 661 and Franklin was fourth at 664. Complete results are listed below.
Taylor Beaty (pictured) paced the ninth-ranked Tigers with a 160 which tied for fifth. Camila Romero shot a 166 to tie for 14th, while Kelly Gaughan and Erin Kielty each tied for 18th at 167 and Sam Stahler was tied for 22nd at 168.
Playing as individuals, Natalie Gough also shot a 160, while Meagan Hayes followed with a 172, Ali Rifkin shot a 177 and Annie Mail finished with a 183.
Martyna Mierzwa of St. Mary's was the medalist with a 154. The complete all-tournament team is listed below with a tiebreaker at the 10th spot.
2009 DePauw Small College Classic All-Tournament Team
Martyna Mierzwa, St. Mary's (Ind.)
Natalie Matuszak, St. Mary's (Ind.)
Becca Miller, Trine
Megan Rimmel, Olivet
Taylor Beaty, DePauw
Natalie Gough, DePauw
Janca Millett, Transylvania
Brittany Stephens, Franklin
Perri Hamma, St. Mary's (Ind.)
Mary Kate Boyce, St. Mary's (Ind.)
DePauw competes at Wittenberg's Pat Clouse Invitational, Oct. 10-11.
Follow DePauw Athletics on Twitter | Become a Fan of DePauw Athletics on Facebook
DePauw Small College Classic
Deer Creek Golf Club
Clayton, Indiana
Dates: 9/26-27/2009
Par 72, 5837 yards  (17 teams, 99 players)
 
St. Mary's (Ind.) College..... 315 320   635   +59      1st
Martyna Mierzwa...............  76  78   154   +10      1st
Natalie Matuszak..............  80  77   157   +13      2nd
Perri Hamma...................  80  82   162   +18   t- 9th
Mary Kate Boyce...............  79  83   162   +18   t- 9th
Rosie O'Connor................  87  84   171   +27   t-27th
Christine Brown#..............  86  87   173   +29   t-32nd
Cara Kielty#..................  92  92   184   +40     57th
 
DePauw University............. 327 326   653   +77      2nd
Taylor Beaty..................  80  80   160   +16   t- 5th
Natalie Gough#................  76  84   160   +16   t- 5th
Camila Romero.................  83  83   166   +22   t-14th
Kelly Gaughan.................  79  88   167   +23   t-18th
Erin Kielty...................  85  82   167   +23   t-18th
Sam Stahler...................  87  81   168   +24   t-22nd
Meagan Hayes#.................  86  86   172   +28   t-30th
Ali Rifkin#...................  90  87   177   +33   t-40th
Annie Mail#...................  86  97   183   +39   t-55th
 
Olivet College................ 333 328   661   +85      3rd
Megan Rimmel..................  81  78   159   +15      4th
Amber Conrad..................  84  82   166   +22   t-14th
Lauren Campbell...............  82  86   168   +24   t-22nd
Abby Wheeler..................  86  82   168   +24   t-22nd
 
Franklin College.............. 326 338   664   +88      4th
Brittany Stephens.............  77  83   160   +16   t- 5th
Natalie Daugherty.............  82  83   165   +21     13th
Sam Marshall..................  83  83   166   +22   t-14th
Brittany Brownrigg............  84  89   173   +29   t-32nd
Avery Brown#..................  90  87   177   +33   t-40th
Grace Adams...................  88  90   178   +34   t-43rd
Morgan Gold#..................  99  94   193   +49   t-70th
Annie Kaylor#.................  99  95   194   +50   t-75th
Valerie Huber#................  99 103   202   +58   t-85th
Jenna Daugherty#.............. 117 109   226   +82     97th
 
Walsh University.............. 333 339   672   +96      5th
Nikki Kulasa..................  82  81   163   +19     12th
Kim Smith.....................  83  84   167   +23   t-18th
Katie Kohut...................  83  88   171   +27   t-27th
Katy Collins..................  85  88   173   +29   t-32nd
Abbey Kimar...................  88  86   174   +30     36th
 
Centre College................ 344 344   688  +112      6th
Whitney Miller................  87  80   167   +23   t-18th
Katie McKenna.................  85  85   170   +26     26th
Marissa Cianchetti............  81  91   172   +28   t-30th
Bridget Winstead..............  91  88   179   +35   t-45th
Lauren Mashburn...............  94  92   186   +42   t-58th
Megan Sims#...................  94  94   188   +44     64th
Daphne Fisher#................  99  94   193   +49   t-70th
Sarah Fisher#.................  99  94   193   +49   t-70th
 
Wittenberg University......... 346 355   701  +125      7th
Anne Busam....................  79  83   162   +18   t- 9th
Meghann Greene................  90  85   175   +31   t-37th
Heather Hendrickson#..........  87  92   179   +35   t-45th
Jenna Lisic...................  87  94   181   +37   t-51st
Nicole Momsen.................  90  93   183   +39   t-55th
Carrie Frey...................  92  95   187   +43   t-62nd
 
Carthage College.............. 358 353   711  +135   t- 8th
Amy Binstein..................  87  84   171   +27   t-27th
Katie Ramirez.................  87  91   178   +34   t-43rd
Tabby Bell....................  92  88   180   +36   t-48th
Heidi Hoffman.................  92  90   182   +38   t-53rd
Brooke Mix#...................  89  93   182   +38   t-53rd
Aubrie Morano#................  97  94   191   +47   t-68th
Julie Klawitter...............  96  97   193   +49   t-70th
 
Hanover College............... 348 363   711  +135   t- 8th
Molly Burpo...................  80  89   169   +25     25th
Becky Roberts.................  92  87   179   +35   t-45th
Bridget Neal..................  89  91   180   +36   t-48th
Natosha Wood..................  87  99   186   +42   t-58th
Paige Schroeder...............  98  96   194   +50   t-75th
Meghin Shelton#............... 116 124   240   +96     98th
 
North Central College......... 355 361   716  +140     10th
Alyssa Gaudio.................  84  82   166   +22   t-14th
Mallory Carr..................  85  90   175   +31   t-37th
Marisa Miko...................  87  90   177   +33   t-40th
Jessica Struthers.............  99  99   198   +54   t-79th
Jennifer Koonce#..............  99 101   200   +56   t-82nd
Sarah Martin.................. 103 107   210   +66     90th
 
Transylvania University....... 359 372   731  +155     11th
Janca Millett.................  84  76   160   +16   t- 5th
Megan Graeter.................  94  92   186   +42   t-58th
Miranda Richards..............  98 102   200   +56   t-82nd
Sarah Slattery................ 105 102   207   +63   t-88th
Megan Foley...................  83  wd 
 
Trine University.............. 366 378   744  +168     12th
Becca Miller..................  76  82   158   +14      3rd
Amanda Mainshore..............  87 102   189   +45   t-65th
Annie Mulvaney................  97 101   198   +54   t-79th
Allie Buttery................. 106  96   202   +58   t-85th
Lauren Burns.................. 106  99   205   +61     87th
Jessica Smoker#............... 104 113   217   +73   t-94th
 
Rose-Hulman Inst.............. 378 370   748  +172     13th
Stephanie Harrington..........  90  83   173   +29   t-32nd
Allison Luther................  86  95   181   +37   t-51st
Bailey Wagner.................  94  93   187   +43   t-62nd
Bethany Brisco................ 108  99   207   +63   t-88th
 
Manchester College............ 374 385   759  +183     14th
Erica Hahn....................  91  95   186   +42   t-58th
Kaitlyn Balbo.................  97  92   189   +45   t-65th
Chelsea Johnson...............  92  99   191   +47   t-68th
Jessica Fisk..................  94  99   193   +49   t-70th
Sheridan Slagle............... 100 115   215   +71   t-92nd
 
Anderson University........... 391 391   782  +206     15th
Courtney Erickson.............  98  92   190   +46     67th
Kendria Stephens.............. 100  94   194   +50   t-75th
Bailey Hunt...................  93 105   198   +54   t-79th
Holly Cloyd................... 100 100   200   +56   t-82nd
Hannah Wickard................ 110 105   215   +71   t-92nd
 
Kalamazoo College............. 394 402   796  +220     16th
Ashley Arnoldi................  89  87   176   +32     39th
Meghan Turner.................  87  93   180   +36   t-48th
Taylor Sruba.................. 111 106   217   +73   t-94th
Allison LaRose................ 107 116   223   +79     96th
 
St. Mary-of-the-Woods College. dnc dnc 
Katelyn Gosnell#..............  96  98   194   +50   t-75th
Danielle Rosselli#............ 105 107   212   +68     91st
 
# Indicates individual player


Back