Tigers Blank Oglethorpe, 4-0
September 27, 2009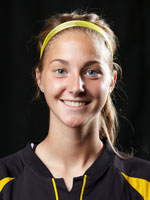 September 27, 2009, Atlanta, Ga. — DePauw scored three times in the opening 22 minutes on the way to a 4-0 Southern Collegiate Athletic Conference win at Oglethorpe.
The Tigers improved to 2-4-3 overall and 1-0-1 in the SCAC, while the Stormy Petrels dropped to 3-3 overall and 0-2 in conference play.
Bridget Coleman gave the Tigers a 1-0 lead at 13:31 before Alexandra Ehr (pictured) followed with goals at 15:52 and 21:32. Kat Wilson assisted on the first with Julia Drummond aiding the latter. Stephanie Patton rounded out the scoring at 72:19 on Ehr's assist.
DePauw held an 11-5 edge in shots and a 5-1 margin in corners. Lauren Palfrey and Caroline Kerr shared the shutout with Kerr recording a save. Sarah Nania had two saves for Oglethorpe.
The Tigers host Colorado College on Friday, October 2, at 8 p.m.
Follow DePauw Athletics on Twitter | Become a Fan of DePauw Athletics on Facebook
Back