Public Invited to Indiana Court of Appeals Session Here on October 13
October 4, 2009
October 4, 2009, Greencastle, Ind. — The Indiana Court of Appeals will come to campus of DePauw University on Tuesday, October 13, to hear oral arguments in the case of George A. Scott v. Malissa Elizabeth Retz, R.N., and Indiana University. The presentations, which are open to the public, will begin at 10 a.m. in Walden Inn Social Center before a three-judge Court of Appeals panel. Normal courtroom rules of decorum will apply.
The department of political science at DePauw University is hosting the event, which represents the fifth time the Court of Appeals has heard oral arguments here.
In the case being appealed, "George Scott, a Clarian Health Partners Safety and Security investigator, was stuck by an uncapped used syringe while investigating missing narcotics at Indiana University Hospital," notes the court's summary. "He sued Malissa Retz,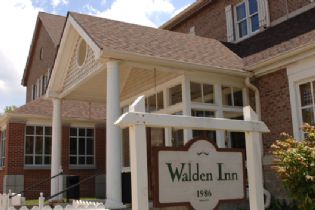 R.N., for negligence and Indiana University, Retz's employer, for respondeat superior and negligent retention and supervision. Are Retz and IU entitled to summary judgment on Scott's claims? Along with granting summary judgment to Retz and IU, the trial court granted Scott's motion to strike part of an affidavit that IU designated in support of the summary judgment. Did this affidavit contain an inadmissable hearsay statement?"
At the conclusion of the oral arguments, the judges plan to answer questions from the audience, although they must refrain from discussing the particular case being considered.

"Here at DePauw we often have visitors speaking about public affairs and various aspects of the American political system," says Bruce Stinebrickner, professor of political science. "In the oral arguments to occur on 13 October, our visitors, three Indiana Court of Appeals judges, will be conducting actual state government business, not just talking about it."
For more information, visit the Indiana Court of Appeals online.
Back