"Clever Commentary" and "Stellar Performances" in Tartuffe, Opening Tonight
October 1, 2009
October 1, 2009, Greencastle, Ind. — "What amazed me about the play was that although the story took place in 17th century Paris, many of the themes are just as applicable in the present day," writes the Banner-Graphic's Jamie Barrand after viewing a preview performance of Tartuffe. The comedy, the first production of DePauw Theatre's 2009-10 season, opens tonight at 8 p.m. in Moore Theatre of the Green Center for the Performing Arts.
Performances continue Friday and Saturday, October 2 and 3, at 7:30 p.m., and Sunday, October 4 at 2:30 p.m.
"Set in pre-revolutionary France, Tartuffe is a clever commentary on how people are willing to give up everything for the chance to be in the presence of godliness," writes Barrand. "Jared Norman is perfect in the lead, giving Tartuffe a truly smarmy edge. He stalks about the stage in his long, black robe, wearing a huge cross around his neck.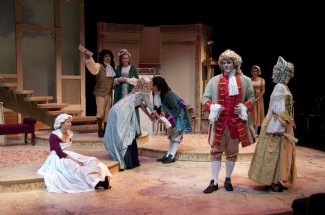 Emily Terrell plays delightfully trashy and outspoken housemaid Dorine, who provides much of the play's comedy. Other stellar performances are turned in by Alexander Thompson as the na*ve and captivated Orgon, Laura Durham as Orgon's wife Elmire and Katie Sink as the weepy, eager-to-please Mariane, Orgon and Elmire's daughter."
You'll find the full text at the newspaper's Web site.
Learn more about the production in this previous article.
Back