WGRE Again in the Running for an mtvU 'Woodie Award'
October 2, 2009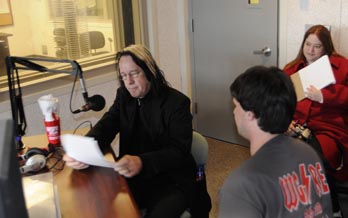 October 2, 2009, Greencastle, Ind. — DePauw University's student radio station, WGRE, is one of 25 college outlets across the nation in the running for a "Woodie Award" from MTV's 24- hour college network, mtvU. According to the network, "The mtvU Woodie Awards recognizes the music voted best by college students from around the country. The College Radio Woodie recognizes the best of the best in college radio.The winner will be decided by online voting which is under way now." (at left: music legend Todd Rundgren visiting WGRE; April 8, 2009)
The top 5 finalists will be unveiled on October 26, and the overall winner will be announced November 18 on mtvU. WGRE was one of the finalists in last year's inaugural competition.
You'll find a link to vote for the Woodie Awards on mtvU's Web
page.
One of America's first non-commercial, educational stations, WGRE signed on the air on April 28, 1949. Originally based in Harrison Hall, the station's studios were in the Memorial Student Union Building for many years. Since 1991, WGRE has been located in the Pulliam Center for Contemporary Media. The station, managed and run by nearly 150 DePauw students, operates 24 hours a day at 800 watts.
To listen to WGRE live online, click here or visit the station's Web site.
Back