Tigers Sweep SCAC Player of the Week Honors
October 6, 2009
October 6, 2009, Greencastle, Ind. — Following Saturday's 29-27 Southern Collegiate Athletic Conference win over preseason favorite Millsaps, DePauw claimed all three SCAC Football Player of the Week honors.
Spud Dick was named the Offensive Player of the Week, while Thomas Wrona was selected the Defensive Player of the Week and Jordan Havercamp earned Special Teams Player of the Week.
Dick (left) completed 28-of-34 passes for 372 yards and three touchdowns and completed 19 straight passes from the first through fourth quarter, just two completions shy of tying the Division III record. He was 19-20 for 308 yards from the second through fourth quarter.
He also broke the DePauw career record for touchdown passes bringing his total to 57. Dick's 57 career touchdown passes currently ranks sixth in conference history.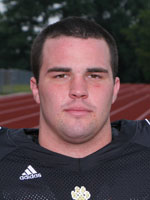 Wrona (right) tallied seven tackles including one for loss. He also made the tackle to prevent a two-point conversion with 3:37 left in the ball game.
He was part of a defense that helped limit Millsaps to just 20 rushing yards, the Majors lowest output since 2006.
Havercamp (left) connected on field goals of 31, 36, and 42 yards.. His 42 yarder extended the Tigers' lead to 29-21 with just over four minutes left in the game. Havercamp notched two extra points to tally 11 total points and also had one of his two kickoffs result in a touchback.
A photo gallery from Saturday's win is available with highlights from WXIN-TV (Fox 59) also posted.
The Tigers (3-1, 2-1 SCAC) travel to Rhodes on Saturday. That game can be heard live on WGRE (91.5 FM).
Follow DePauw Athletics on Twitter | Become a Fan of DePauw Athletics on Facebook
Back