DePauw Claims Both Field Hockey Weekly Honors
October 6, 2009
October 6, 2009, Greencastle, Ind. — DePauw senior forward Sarah Riffle and junior goalie Liz Attewell have been selected Southern Collegiate Athletic Conference Field Hockey Offensive and Defensive Players of the Week, respectively, for their performances in the Tigers' wins over Hendrix and Rhodes.
Riffle (left), who earned similar honors last week, was part of both DePauw goals on the weekend as she scored the goal against Hendrix and assisted on the one against Rhodes. She converted her penalty stroke to give DePauw a 2-1 lead in the strokeoff. Riffle played all 177 minutes in the two games.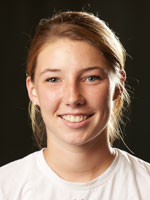 Attewell (right) recorded her fifth shutout of the year in the win over Hendrix with four saves. In a game decided by penalty strokes, Attewell recorded 12 saves and then made saves on three of Rhodes' five penalty stroke shots. Attewell gave up just one goal in 177 minutes.
DePauw travels to Centre on Saturday for an SCAC game and to Transylvania on Sunday for a non-conference contest.
Follow DePauw Athletics on Twitter | Become a Fan of DePauw Athletics on Facebook
Back