Scott Myers '79 Hopes to "Pay it Forward" as City Councillor
October 10, 2009
October 10, 2009, Greencastle, Ind. — "For years, Scott Myers has represented his community in courtrooms and boardrooms," begins a story in Ohio's Worthington News. In November, he hopes to extend his service to Worthington City Council." Myers, a 1979 graduate of DePauw University, "is among five candidates from which voters will select Nov. 3 for four open seats on council," writes Matt Gerish.
The article notes, "For the last 15 years, Myers has worked on behalf of Ohioans as assistant attorney general for the state of Ohio. Now, Myers is ready to take his experience to Worthington City Hall ... Myers is familiar with local politics and issues, having served eight years on the Worthington Architectural Review Board and two years on the Worthington Municipal Planning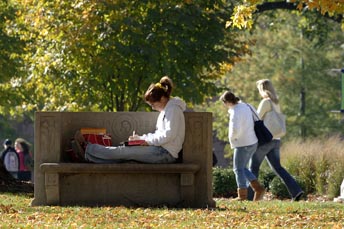 Commission -- but he said he hopes to continue to give to the city he has enjoyed for so many years."
"It's kind of the 'pay it forward' idea," Myers tells the newspaper. "If you're going to take, you've got to give back."
The story points out that Myers majored in economics at DePauw and earned a law degree from Capital University.
Read more by clicking here.
Back