ESPN Founder Bill Rasmussen '54 Featured in Massachusetts Paper
October 6, 2009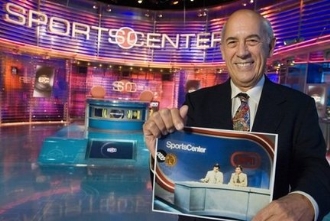 October 6, 2009, Greencastle, Ind. — "When Bill Rasmussen started calling football games at the University of Massachusetts in 1963, he never envisioned creating a network -- and a word -- synonymous with sports," begins an article in the Springfield Republican. The story tells of how Rasmussen, a 1954 graduate of DePauw University, went from an early sportscasting job at WTTT radio in Amherst and 17 years later co-founded ESPN.
In 1978, Rasmussen lost his job as the communications director for the World Hockey League's Hartford Whalers, but in that role had become familiar with burgeoning satellite technology. He recalls, "as luck would have it, the Whalers missed the playoffs in 1978, and I got fired. That's how ESPN got started. I had to do something, and I started ESPN."

Bill Wells writes, "While driving to New Jersey for a birthday party in August, Rasmussen and his son, Scott, [a 1986 DePauw graduate], got caught in a traffic jam on Interstate 84 in Waterbury, Conn. They started to think about an all-sports station, with 24-hour programming. 'By the time we got back that night, we had outlined everything, including putting a half-hour sports news show on at 6:30, opposite the big three news networks,' said Rasmussen, referring to ABC, CBS and NBC." The Rasmussen's brainchild, ESPN, debuted on September 7, 1979.
"Rasmussen sold ESPN in 1984. He's had his hand in a number of projects and jobs, including doing the television contracts for the Big 10. His latest venture is College Fanz Sports Network, which went online two years ago. The Web site
represents more than 14,000 colleges, complete with scoreboards, photos, stories, forums, maps, and a page for fans. It offers live streaming 24-7."
Bill Rasmussen tells the newspaper, "We've got a lot of fun things going on," adding, "It's been a lot of fun. I still have a lot of energy and I'm still enthused about all of the sports." (at left: Rasmussen addressing the Princeton Entrepreneurship Club, September 2008)
Access the complete text at the Republican's Web site.
As part of ESPN's 30th anniversary celebration, Rasmussen threw out the ceremonial first pitch at the September 13 game between the Philadelphia Phillies and New York Mets at Philadelphia's Citizens Bank Park. Learn more in this story.
Back