"Justice Demands This Book Be Read," Star Columnist Writes of The Good Doctors
October 7, 2009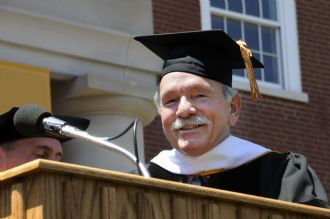 October 7, 2009, Greencastle, Ind. — "Alvin Poussaint, the noted African-American psychiatrist, Harvard professor and civil rights veteran, once told John Dittmer he didn't understand why young foes of segregation targeted lunch counters," writes Dan Carpenter in his Indianapolis Star column today. "'They should have demonstrated against hospitals,' Dittmer recalls Poussaint saying. 'Black people were dying there -- or couldn't get in.' The germ of a book lay in that statement; but first things first.'"
Carpenter notes that Dittmer, professor emeritus of history at DePauw University, wrote the 1994 book, Local People: The Struggle for Civil Rights in Mississippi,
which won several awards including the Bancroft Prize, generally considered the most prestigious award in the field of American history writing.
"Tucked into that book, and overlooked by his fellow historians, was the Medical Committee for Human Rights, an interracial and intersectional coalition of health professionals that arose in support of the black freedom struggle and raised the nation's consciousness about access to health care generally. Their story, at once heroic and cautionary, is told in The Good Doctors, published this year by Bloomsbury Press. It's gotten favorable attention in various precincts of the medical community; and Dittmer hopes it not only pulls its deserving cast of players into the spotlight but also furthers their continuing cause."
"The doctors were under the radar screen," says Dr. Dittmer. "And so many are still around and still very active in the single-payer movement."
According to Carpenter, "Three sometimes-conflicting functions defined the MCHR: political advocacy, combat care for civil rights (and later anti-war) demonstrators, and provision of reliable medical care to the underserved. It is the last and least glamorous of these endeavors -- community health centers -- from which Dittmer would most wish to see the nation draw instruction and inspiration. 'That's the way to do medicine,' he says, 'and not just for poor people.'"
The columnist concludes, " Justice demands this book be read."
You'll find the complete essay, "Health ills: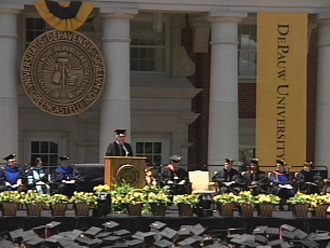 Shall we overcome?," at IndyStar.com.
The Good Doctors: The Medical Committee for Human Rights and the Struggle for Social Justice in Health Care was published in May and was noted in the Chronicle of Higher Education and Mississippi's Jackson Free Press and reviewed in the Journal of the American Medical Association, which noted, "Even with the right to vote, the right to health care, and the elimination of Jim Crow, gaps in society still exist in which citizens, especially poor citizens of color, do not have access to health care. This book may be a call to arms for the professional and advocacy organizations of today to continue to fight for the cause."
On May 17, John Dittmer delivered the principal address to DePauw's Class of 2009 at the University's 170th commencement and received an honorary doctoral degree. A summary of his remarks and an MP3 file of the complete speech can be accessed in this report.
Back