Video Blitz at Prindle
October 7, 2009
It's a Friday night, and you're in college. What are you doing?
If your answer is, "I'm at a campfire, eating dinner and s'mores while debating the points of a TEDTalk," you probably already know about Video Blitz, a monthly event hosted by the ethics interns at DePauw's Janet Prindle Institute for Ethics. If not, the next two Blitzes at 6 p.m. on Oct. 9 and Nov. 12 will give members of the DePauw community a chance to unwind before their weekends begin.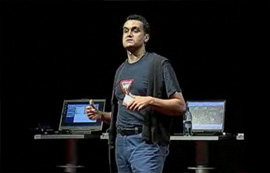 Video Blitz evenings begin with a TEDTalk chosen by the ethics interns. For the unfamiliar, TED, which stands for Technology, Entertainment, Design, began as a yearly conference devoted to "Ideas Worth Spreading." TEDTalks are a selection of 20-minute presentations from sometimes famous, often brilliant speakers, made available to the public on the TED Web site. Among the hundreds of speakers who've given TEDTalks are Tipping Point author Malcolm Gladwell, who connected happiness and spaghetti sauce, and neuroanatomist Jill Bolte Taylor, who gave a firsthand account of how her brain changed during a stroke. The September Video Blitz featured a talk by journalist Carl Honore, an advocate for doing things more slowly.
"If you think about how we try to make things better, we speed them up," Honore mused in his TEDTalk. "We used to dial, now we speed dial; we used to read, now we speed read; we used to walk, now we speed walk and, of course, we used to date, now we speed date. ... We're so marinated in the culture of speed that we almost fail to notice the toll it takes on every aspect of our lives. On our health, our diet, our work, our relationships, the environment and our community. And sometimes it takes a wake-up call to alert us to the fact that we're hurrying through our lives, instead of actually living them; that we're living the fast life, instead of the good life."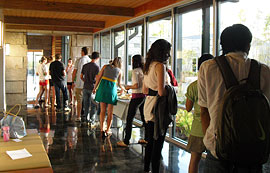 Following the TEDTalk, attendees discuss the topic over dinner and a campfire dessert in Prindle's Nature Park setting. Junior Matthew T. Brauer, who attended the September Blitz, had a different take on the hurried nature of college life.
"I'm not sure it's always so much about slowness as it is about purposeful activity," he says. "It's worth stepping back and asking yourself, why am I doing what I am doing? Is it simply to be busy because that is a habit I've developed, or I am busy because I am passionate about the things I am doing? If you are dedicated to something, you may spend a lot of time on it, but you won't rush through it; and it will be both more workable and more rewarding."
For Brauer, the event provided a good way to slow down while reflecting the University's emphasis on intellectual engagement.
"It was a good chance to do something thoughtful, but also relaxing - a good discussion for its own sake, outside of the classroom," Brauer says. "I thought it was really telling that DePauw students were willing to come out to the Prindle Institute on a Friday night and take some time to have a discussion with a purpose and get to know some new people. President Casey has been talking a lot about intellectual engagement, and I think we want that. This is a great example of a way to make that a reality, and it shows that students will respond."
"We wanted the discussions to be student-run," says lead ethics intern Hallie M. Moberg '11, who organizes the events with five other undergraduate interns. "Professors may know a lot about many of the topics we feature, but we wanted an environment where all participants could be open with their thoughts."
Organizers have arranged for shuttles to leave from the Hub food court in the Memorial Student Union Building, beginning at 5:40 p.m. "Prindle may not be on campus, but transportation and a way to get there should never be an issue for students," Moberg says. The ethics interns are all certified drivers of their own vehicles and of the Safe Ride van, so transportation is always available for the Video Blitzes as well as for all events at the Prindle Institute.
"I think students want to talk about issues that are important in their lives and in the world, but there's not always a venue to do so," Moberg adds. "The Prindle Institute is always there for students. It's a place where students can go for an event such as Video Blitzes, or even to get away from the business of campus to reflect on everything."
For more information about the event or transportation to and from the Prindle Institute, e-mail prindleinstitute@depauw.edu with your questions. The event is free and open to all.
Back